ADVERTISEMENT. CONTINUE READING BELOW.
Microsoft's search engine, Bing, is facing backlash due to allegations of redirecting users from other web browsers to Bing Chat within the Edge browser. Critics have accused the company of engaging in anti-competitive practices and attempting to coerce users into adopting its browser.
The controversy emerged in February 2023 when Microsoft introduced Bing Chat, an AI chatbot that enables users to interact with Bing for information and tasks through voice commands. Notably, this chatbot is exclusively accessible on the Edge browser. Users trying to access it through other browsers are prompted to switch to Edge.
ADVERTISEMENT. CONTINUE READING BELOW.
In response to the criticism, Microsoft has defended its approach by stating its aim to provide users with an optimal experience. Nevertheless, detractors argue that the company is leveraging its market influence to compel users to adopt Edge. Given that Bing ranks as the world's second most popular search engine, skeptics contend that Microsoft is utilizing its stronghold in the search market to advance its browser.
Microsoft Allowed Bing Chat on Other Browsers for Sometime
After facing criticism, Bing Chat Did Work on Other Browsers, But after getting PR, they are back to their tricks.Check out the Image Below.
ADVERTISEMENT. CONTINUE READING BELOW.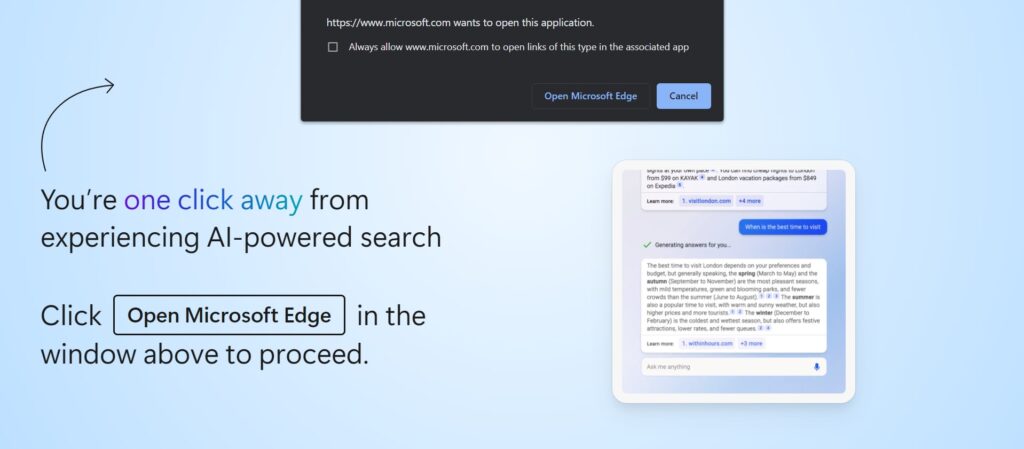 The situation has attracted regulatory attention both in the United States and Europe. The European Commission is actively investigating Microsoft for potential anti-competitive behavior, while the U.S. Department of Justice is considering initiating its inquiry.
The outcomes of these investigations are still uncertain. However, the Bing Chat situation raises concerns about the power wielded by tech giants and the imperative for healthy competition within the tech sector.
The screenshot shared illustrates a pop-up message from Bing urging users to open Microsoft Edge to experience AI-powered search via Bing Chat. This message seems strategically designed to pressure users to switch to Edge, which is disconcerting.
It showcases Microsoft's willingness to exploit its market dominance to drive users towards its products. This move is not only anti-competitive but also diverges from the principles of open web standards.