ADVERTISEMENT. CONTINUE READING BELOW.
You know how sometimes you're working on your iPhone or Mac and wish you could access a file or app only on your Windows computer?
Well, Microsoft just rolled out a handy new solution for that. They created a web-based app that lets you access your Windows apps and documents through any web browser on iOS or macOS.
ADVERTISEMENT. CONTINUE READING BELOW.
It's like a cloud version of your Windows desktop that you can access from any device. So now you don't have to email files back and forth or try to sync everything. You can log into this web app and open whatever you need on your Windows computer.
I haven't tested it, but it seems convenient if you regularly bounce between Windows, iPhone, and Mac for work. Microsoft is calling it the web version of their Windows 365 app.
ADVERTISEMENT. CONTINUE READING BELOW.
It's not the catchiest name, but it gets the point across! It could be a game changer for people who rely on multiple operating systems and want their stuff seamlessly accessible anywhere.
What is Windows 365?
Windows 365 is a subscription service that lets you have a cloud PC with either Windows 10 or 11. This special PC can be used from any device connected to the internet, like a computer, tablet, or phone. There are some advantages to using Windows 365:
ADVERTISEMENT. CONTINUE READING BELOW.
Data Security and Privacy: Your information is stored in the cloud, not on your local device, which helps keep your data safe and private.
Optimal Performance: You can pick the size and power of your cloud PC based on what you need, ensuring you get the best performance.
Continuity of Work: You can pick up right where you left off because the state of your cloud PC is saved across different sessions and devices.
How does the Windows web application work?
The cool thing about the new Windows Web App is that you barely need any extra software. You're good to go as long as you've got a web browser like Safari, Chrome, or Edge on your device.
All you need is that browser and a Microsoft account with a Windows 365 subscription. Then you can access a cloud version of your Windows PC from anywhere!
Here's what you can do with it:
ADVERTISEMENT. CONTINUE READING BELOW.
See your normal Windows desktop and apps in the browser. It looks familiar, just like your own computer.
Resize it or flip your screen, and it adapts. So it works smoothly on a tiny phone screen or a big monitor.
Use your device's keyboard, trackpad, camera, etc, to control the Web App. It integrates with your local operating system.
You can get the full Windows experience through the cloud without installing anything. Just log in through a browser, and you're off and running!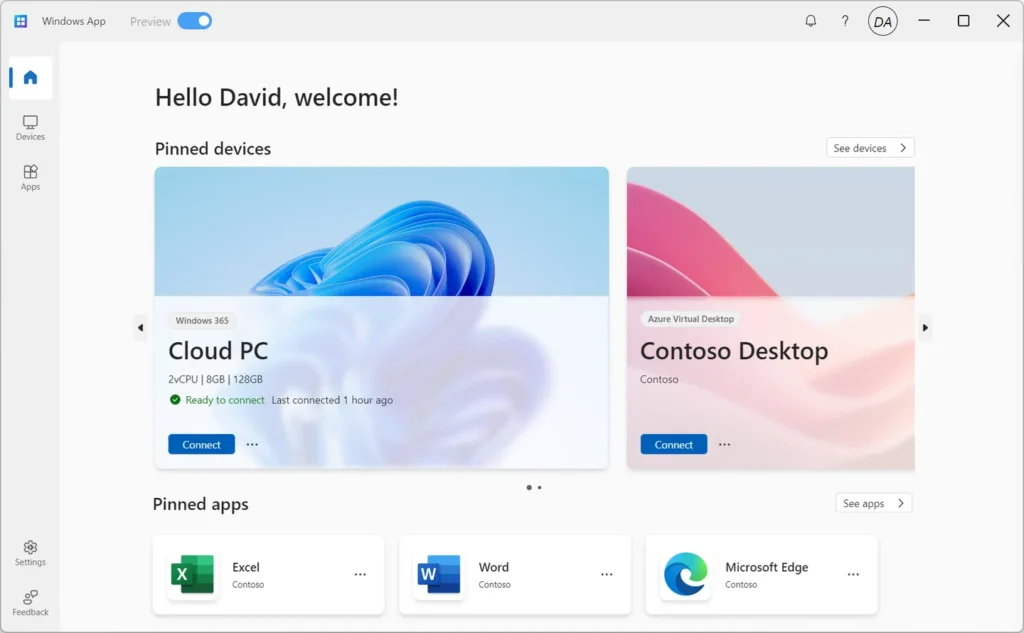 What advantages does the Windows web application have?
The new Windows Web App opens up some cool possibilities for iPhone and Mac users. Here are a few advantages it offers:
You can now use Windows apps and programs that don't have iOS or Mac versions. So, if there's a Windows app you rely on for work or fun, you can access it through the web browser.
It makes collaborating and staying productive way easier. Now, you can work on the same files and programs on your iPhone or Mac that you use on your home or work PC. No more emailing documents back and forth!
You don't have to waste any storage space or effort downloading and installing software on your Apple device. The Web App runs fully through the cloud.
The Windows Web App works for anyone with a Windows 365 Business or Enterprise subscription. Just head to web.windows365.com to access it.
Pretty neat that iPhone and Mac users now have an easy way to tap into the Windows environment without switching devices or operating systems. This web access expands what you can do on Apple products for work or play!