ADVERTISEMENT. CONTINUE READING BELOW.
Windows 11 23H2 is a significant system update expected in the latter part of 2023. Microsoft has announced it will be released on October 26th, which is just around the corner, next Tuesday.
In this update, known as Windows 11 Moment 4, Microsoft is introducing over 150 new features. Let's look at the top 10 highlights of what's coming.
ADVERTISEMENT. CONTINUE READING BELOW.
10 New features of Windows 11 23H2
10. Backup Made Easy
Creating backups is much easier nowadays, and the Windows 11 update has made it even simpler with the introduction of the new Windows Backup tool.
9. Improved voiceover function
Windows 11 has become more accessible with new natural voices and improved text authoring experiences for voice access.
ADVERTISEMENT. CONTINUE READING BELOW.
8. New File Explorer
One of the standout features in the new Windows 11 is the updated File Explorer. It's been given a modern makeover with changes to the home screen, address bar, and search box.
A new photo gallery feature is also designed to simplify accessing your photo albums. Microsoft's goal is to make the app more up-to-date and user-friendly.
ADVERTISEMENT. CONTINUE READING BELOW.
7. Improved Outlook
Outlook for Windows has introduced smart tools that simplify composing new emails. Additionally, it has improved its compatibility with rival email services like Gmail, Yahoo, and iCloud. This makes it easier for users to manage their emails across different platforms.
6. Smarter Notepad
In the upcoming Windows 11 update, Notepad will have an automatic text-saving feature. This means your work will be saved automatically when using the text editor.
This can be helpful for those who frequently use Notepad, as you can stop your job at any point and then pick up right where you left off without worrying about saving it manually. Microsoft promises that you won't miss any of your work with this handy feature.
ADVERTISEMENT. CONTINUE READING BELOW.
5. Clipchamp with content suggestion
The video editor comes with a helpful feature. It suggests content like narratives and edits based on what you're adding to your project.
This can make putting together videos easier, especially when working on more straightforward projects. It's like having a handy assistant that gives you suggestions to enhance your video editing experience.
4. New Features for Screenshot
Windows' built-in screenshot tool has improved a lot lately. Now, it can do some pretty cool things, like extracting text from images, similar to what Google Lens and Live Text can do on Google and Apple devices. It can also capture audio and video from your Windows screen, making it even more versatile and useful.
3. Photo editing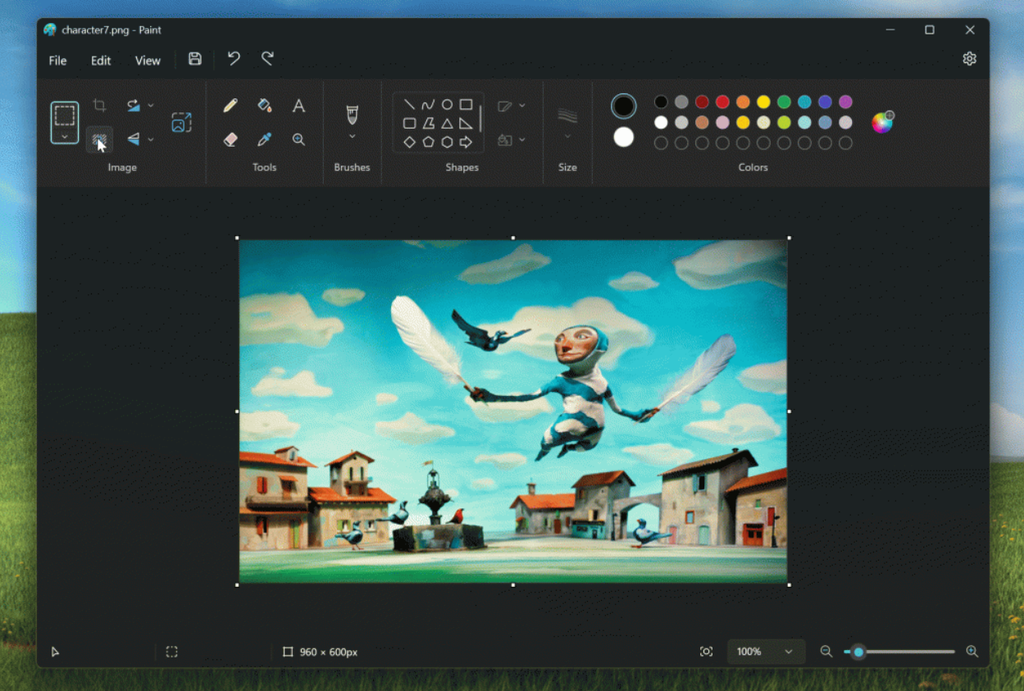 The Windows 11 Photos app has gotten some handy upgrades for image editing. Now, you can easily blur the background of your photos with just a single click.
They've also made it easier to search for photos stored on OneDrive, and you can even find pictures that are similar to one you already have saved there. These new features make managing and editing your photos a lot more convenient.
2. Paint
One exciting feature in Windows 11 23H2 is the updated Paint app. It now uses artificial intelligence to generate images and illustrations, which is fantastic. It can also remove backgrounds from images, making image editing easier and more efficient.
1. Copilot
The most significant and highly anticipated feature in the new Windows 11 is undoubtedly the integration of Microsoft Copilot. This technology, announced in May, brings artificial intelligence to the system, making it much easier to perform various tasks in Windows. You can access it conveniently through a Taskbar button or the Windows + C shortcut. It's a game-changer!