ADVERTISEMENT. CONTINUE READING BELOW.
When compressing PDF files, the good news is that you don't need to go through the hassle of downloading specific applications. There are convenient websites available that allow you to compress your PDFs online, and the best part is that they're free!
These web services are useful, especially when you have large PDF files that must be shared via email or messaging. By compressing them, you can reduce their file size, making them more manageable and easier to send without compromising overall quality.
ADVERTISEMENT. CONTINUE READING BELOW.
To help you in your quest for efficient PDF compression, here are some recommended websites that offer online resources for compressing PDF files. These platforms provide you with the tools you need to shrink your PDFs, ensuring a smoother sharing experience:
How To Compress PDF Online
Adobe PDF Compressor
If you're looking for a reliable solution to compress your PDF files online, the Adobe Acrobat PDF Compressor is here to help. With this tool, you have the option to choose from three different levels of compression. When you upload your document to the site, you'll be able to see the estimated file size for each compression alternative.
ADVERTISEMENT. CONTINUE READING BELOW.
The Adobe PDF Compressor tool offers a user-friendly interface, making the compression process straightforward and hassle-free. Whether you need to reduce the file size for easier sharing or to optimize storage space, this tool allows you to choose the compression level that suits your needs.
Open this URL in your Browser ( https://www.adobe.com/in/acrobat/online/compress-pdf.html )
Click on "Select a file";
Select the PDF file from your computer;
Choose the compression level between "high," "medium," or "low";
Click on "Compress";
Wait for the file to compress;
Click "Download" to save the compressed file.

ADVERTISEMENT. CONTINUE READING BELOW.
ILovePDF
When it comes to optimizing PDF files without compromising their quality, ILovePDF is a reliable solution. This platform allows you to access three compression levels: low, moderate, and extreme. You also have the convenience of running multiple document compressions simultaneously. However, it's worth noting that ILovePDF does not estimate the final file size before executing the compression process.
ILovePDF offers a user-friendly interface, making it easy to upload and compress your PDF files. The platform utilizes advanced algorithms to reduce the file size while preserving the integrity of the content. Whether you need to share your PDFs via email, cloud storage, or any other platform, ILovePDF ensures that your files remain optimized for efficient transfer without sacrificing quality.
Open ILovePDF Compress URL ( https://www.ilovepdf.com/compress_pdf)
Click "Select PDF File" or Google Drive or Dropbox icon;
Select the PDF file;
Choose the compression level between "extreme," "recommended," or "low";
Click "Compress PDF";
Click "Download Optimized PDF" or save directly to Google Drive or Dropbox.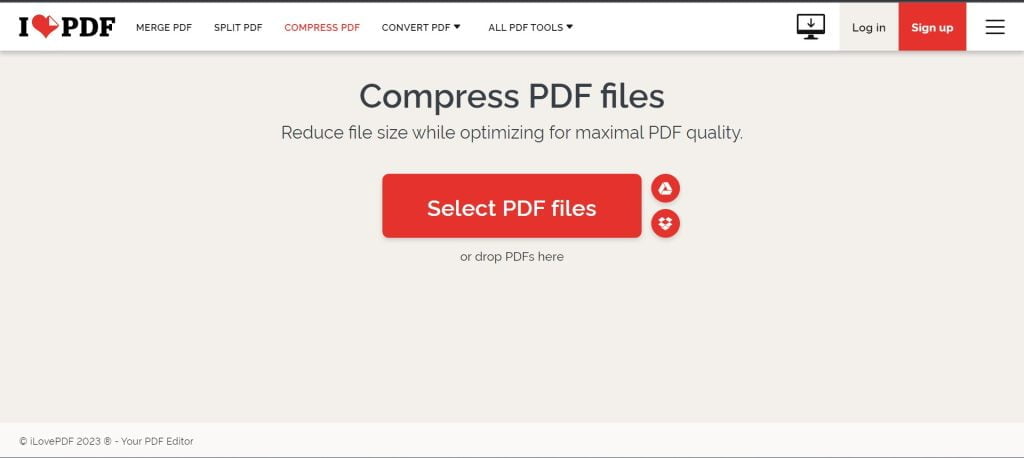 ADVERTISEMENT. CONTINUE READING BELOW.
PDF2Go
Go to PDF2Go Compress PDF (https://www.pdf2go.com/compress-pdf)
Click on "Choose file";
Select a PDF file from the computer, Google Drive, or Dropbox;
Choose a compression option;
Click "Start";
Wait for processing;
The optimized PDF is downloaded automatically;
Click "Download" or "Download in ZIP" for another copy.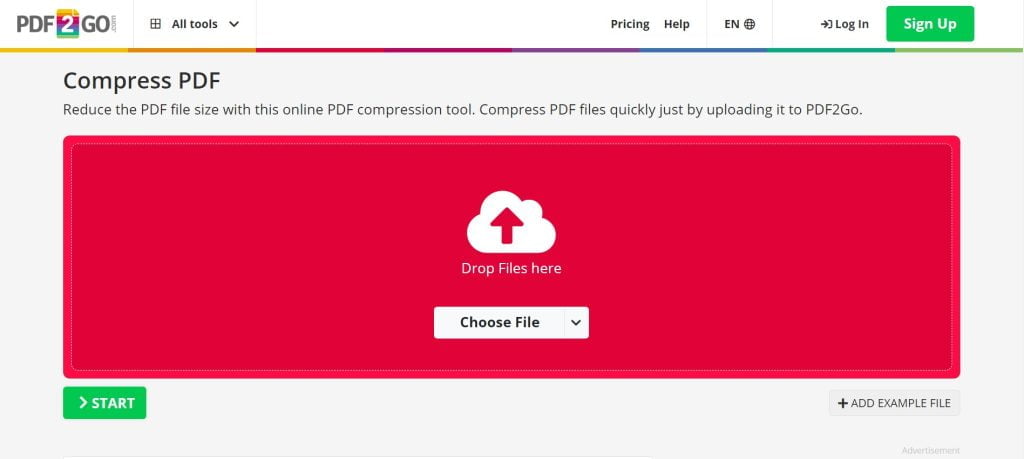 PDF Converter
PDF Converter offers a convenient online tool for compressing PDF files. Within this tool, users can take advantage of two free compression options: better quality or higher compression. These options allow users to balance reducing file size and maintaining the PDF document's visual quality.
In addition to the basic compression features, PDF Converter provides advanced customization options for users who subscribe to the pro version. With a pro subscription, users can access features such as removing assets from the PDF or adjusting the file resolution. These additional options give users greater control over the compression process, allowing them to tailor the output according to their needs.
Go to PDF Converter Compress PDF Page (https://www.freepdfconvert.com/compress-pdf)
Click "Select PDF File" or Google Drive or Dropbox icon;
Select the PDF file;
Choose the compression level between "best quality" or "highest compression";
Click "Compress";
Click "Download" or save directly to Google Drive or Dropbox.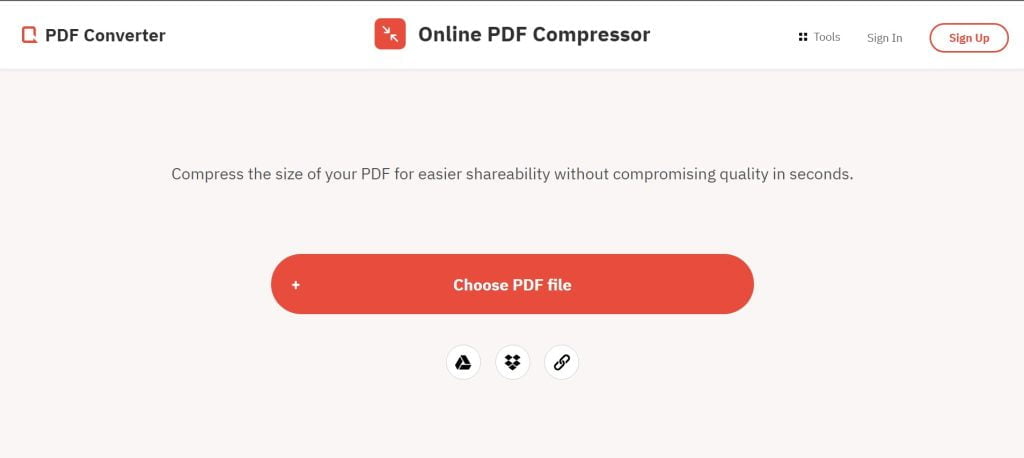 PDF Compressor
PDF Compressor provides a reliable solution for compressing multiple PDF files simultaneously. Although it doesn't offer different compression levels, the tool can reduce the size of up to 20 PDFs at once. This feature is especially useful when dealing with many files that need to be compressed efficiently.
With PDF Compressor, users can easily upload their PDF files and initiate the compression process. Once the compression is complete, the tool conveniently packages the resulting files into a ZIP folder, making it convenient for users to download and manage the compressed files in a single package.
Go to PDF Compressor (https://pdfcompressor.com/)
Click On "Upload Files";
Select the PDF file(s) from your computer;
Wait for the file(s) to be loaded and compressed;
Click "Download" to download each compressed file;
Click "Download All" to save all compressed files in a ZIP folder.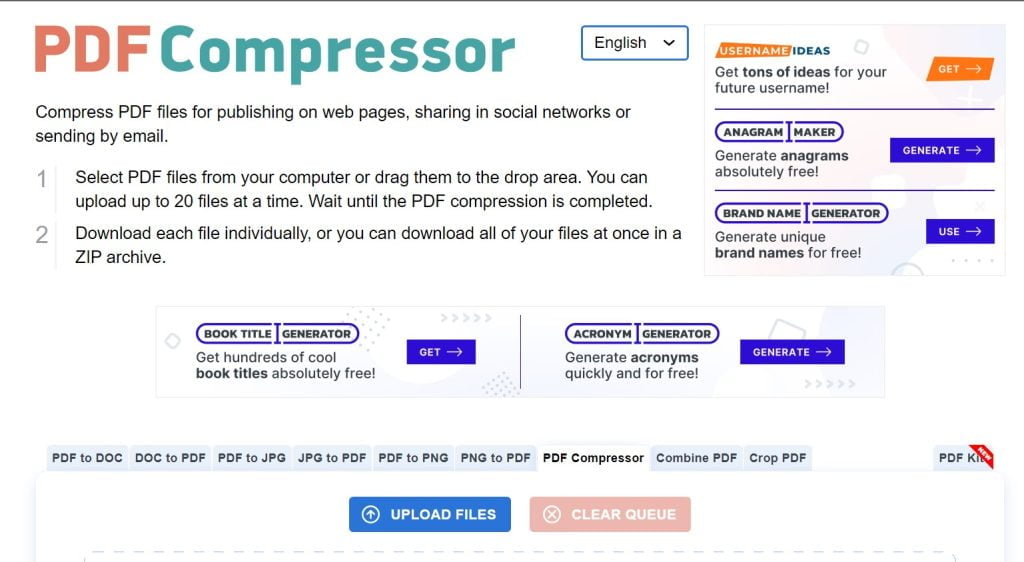 Compressing PDF files online for free has become incredibly convenient and accessible, revolutionizing how we handle digital documents. With a wide range of online tools and platforms available, anyone can effortlessly reduce the file size of their PDFs without needing expensive software or extensive technical expertise.
Our exploration discovered several popular options, such as Adobe Acrobat, ILovePDF, PDF2Go, and PDF Compressor. Each tool offers unique features and compression methods, empowering users to select the one that best aligns with their requirements.
By compressing PDF files, users can unlock numerous benefits. Firstly, it allows for efficient storage, ensuring that PDFs occupy minimal space on devices or cloud storage platforms. Secondly, compressed files facilitate faster transfer speeds, making it easier to share documents via email or messaging platforms. Compressing PDFs contributes to overall file management, improving organization and workflow.
FAQ
How can I compress a PDF file online for free?
There are several online tools available that allow you to compress PDF files for free. Some popular options include Smallpdf, PDF Compressor, and ILovePDF. Simply visit their websites, upload your PDF file, and follow the instructions to compress it.
What is the benefit of compressing a PDF file?
Compressing a PDF file reduces its size, making it easier to share, upload, and store. Compressed PDFs also consume less bandwidth when emailing or uploading them to websites. Additionally, compressed files take up less storage space on your device.
Will compressing a PDF affect its quality or content?
Compressing a PDF file using reputable online tools generally does not significantly affect the quality or content. The compression process removes unnecessary elements, such as redundant images and embedded fonts, while preserving the document's overall visual appearance and readability.
How much can I compress a PDF file?
The degree of compression depends on the content and complexity of the PDF file. Typically, you can achieve significant file size reduction without noticeable quality loss. However, remember that highly compressed files may exhibit slightly reduced image or text quality compared to the original.
Are there any limitations on file size or the number of PDFs I can compress for free?
Many online compression tools offer free services with limited file sizes and the number of PDFs you can compress. These limitations vary depending on the platform. Some services may offer premium plans or paid options for larger files or unlimited usage.
Is it safe to upload my PDF files to online compression tools?
Reputable online compression tools prioritize user privacy and employ secure connections to protect your files. They typically have strict data handling policies and delete uploaded files after a certain period. However, reviewing the privacy policy and terms of service of the specific tool you choose is advisable.
Can I compress a password-protected PDF file online?
Some online compression tools can handle password-protected PDF files, while others may require you to remove the password before compressing. Ensure that you check the features and requirements of the chosen tool to determine if it supports compressing password-protected files.
Do I need to download any software to compress PDF files online?
No, online PDF compression tools generally do not require any software downloads. They operate through web browsers, allowing you to upload, compress, and download your files directly from the website. This makes the process convenient and accessible from any device with an internet connection.
Always read and understand the terms, limitations, and privacy policies of your specific online compression tool before using their services.