ADVERTISEMENT. CONTINUE READING BELOW.
External HDDs and SSDs are incredibly handy for storing various files, from documents and photos to videos, games, and entire software packages. However, formatting these devices on your Mac is crucial to do it safely and efficiently without relying on potentially risky third-party software.
Luckily, macOS offers a native solution for formatting through its Disk Utility application, ensuring a secure process without additional downloads. Follow these steps to format your external hard drive on your Mac:
ADVERTISEMENT. CONTINUE READING BELOW.
Format External Hard Drive on Mac
1. Connect your external hard drive to your Mac and open the Disk Utility app. You can locate this app in your Finder app list's "Others" folder or in Launchpad.
2. In Disk Utility, find the name of your external hard drive in the sidebar and click on it.
ADVERTISEMENT. CONTINUE READING BELOW.
3. In the top menu, select the "Erase" option. A window will appear with configuration options for the formatting process. Here's what each adjustment means: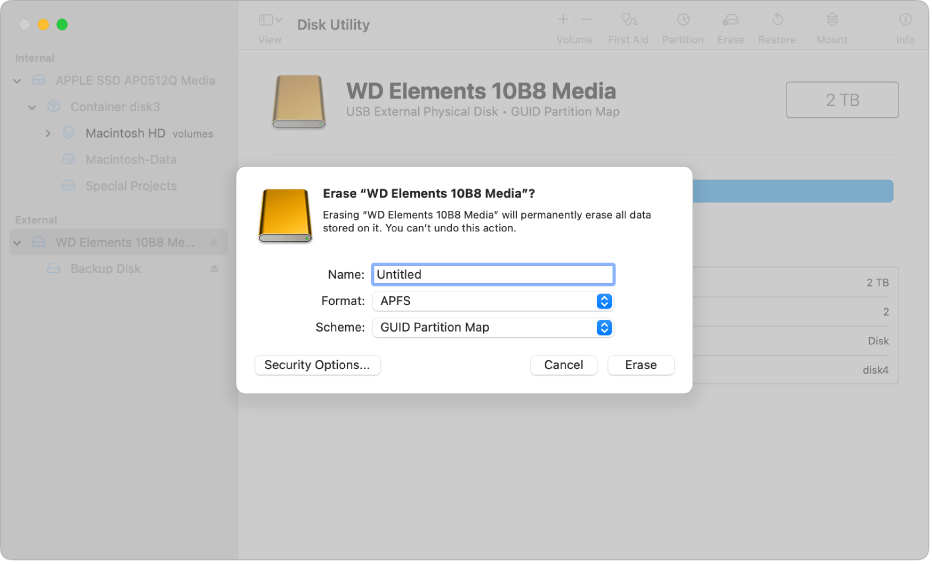 ADVERTISEMENT. CONTINUE READING BELOW.
Name: Optionally set a new name for your external HD after formatting.
Format: Choose the disk format, such as Mac OS Extended, FAT32, NTFS, or exFAT. "exFAT" is often recommended for external hard drives as it is compatible with Windows PCs and Macs.
Security Options: A recovery application might retrieve some deleted files for faster formatting. Opting for a more secure format permanently erases all data on the external hard drive, running the formatting process seven times.
4. Once configuring the options, click "Erase" and wait for your Mac to complete the external hard drive formatting.
It's worth noting that unless your Mac is an older model running Mac OS X Jaguar 10.2 or Mac OS X Tiger 10.4, Disk Utility should already have this formatting functionality.
ADVERTISEMENT. CONTINUE READING BELOW.
This feature was introduced in the Mac OS X Leopard 10.5 update in 2007, providing users with a straightforward way to format external hard drives.