ADVERTISEMENT. CONTINUE READING BELOW.
CapCut, available for both Android and iOS devices, has become a favorite among Instagram and TikTok users due to its user-friendly features. This video editing app is completely free and comes equipped with a range of tools, including automatic subtitles and the popular "green background" effect known as Chroma Key.
With CapCut, you can not only edit videos and photos but also incorporate GIFs into your projects – and that's precisely what we'll show you how to do in this guide.
ADVERTISEMENT. CONTINUE READING BELOW.
However, it's worth noting that while CapCut offers a host of functionalities, it doesn't have a built-in GIF search engine like the one you might find on platforms like WhatsApp.
This means that adding GIFs can be a bit more involved, as you'll need to download the GIFs first before including them in your project. Here's a step-by-step breakdown of the process to help you get started.
ADVERTISEMENT. CONTINUE READING BELOW.
How to Add GIF in CapCut
1. Open CapCut, and on the home page, select "New Project."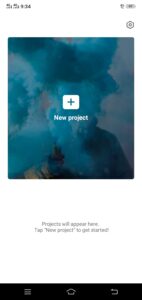 2. Now, choose a video, photo, or live photo (Gif) from your gallery to edit. Then click on the "Add" button in the screen's lower right corner.
ADVERTISEMENT. CONTINUE READING BELOW.
3: Once this is done, select the button positioned in the upper right corner and, again, click on "Add".
4: At the bottom of the screen, where the editing tools are arranged, choose the "Stickers" option.
5: This will display a window with numerous emojis and other stickers. Click on the gallery button on the left screen.
ADVERTISEMENT. CONTINUE READING BELOW.
6: To Add a GIF in CapCut, it must already be downloaded on the device. Locate the image and tap on it.
7: With this action, the GIF will be displayed over the project in progress. Resize and adjust the screen image as you like.
Use the editing features to make the video more dynamic and determine the duration of the GIF through the bar indicated in the screenshot below. At the end of editing, save the file with the upload button in the upper right corner.