ADVERTISEMENT. CONTINUE READING BELOW.
Netflix is the best streaming service available which provides much more content than the other providers. It offers limitless content based on your location which hosts Netflix Originals as well as regional Tv shows and movies. You can watch all these by taking subscriptions on their websites.
Despite the best service, there is a time when error popups. Recently many NetFlix users reported that they are getting M7111-1931-404 Netflix errors on their Devices?
Are you facing this error m7111-1931-404 too?
If you are also having this Netflix error then it might be due to some server issue or if it's your device. Then in this article, we will share a few tricks and guides which will help you to fix the error m7111-1931-404.
What causes the M7111-1931-404 Netflix Error?
According to the reported issues reported on various forums, the error is mostly happening with desktop devices and few on Mobile. If you are using a desktop Netflix app then there might be a problem with the app, the same goes for Netflix mobile app.
If you are getting this on the browser then some of these things may cause this issue:
Chrome, Firefox Extensions.
Netflix Servers (Very fewer chances of this).
Adblock or any extension which blocks Netflix from loading completely.
VPN: Officially Netflix does not allow to watch using a VPN.So if your system is connected to a VPN that might be the problem.
How to Fix M7111-1931-404 Netflix Error?
Let's see what are Various Methods from which we could Fix the M7111-1931-404 error on our device.
1. Restart Your Device
The most basic thing we do whatever happens is to restart the device first. Here also we will do the same, will restart the device by closing all applications. Before doing this don't forget to sign out from the app and the browser whichever you are using.
ADVERTISEMENT. CONTINUE READING BELOW.
2. Check for Connectivity Issues
Sometimes our device shows we are connected to the internet but the internet seems to not working. To verify it that you have a working internet connection. Follow the simple method below to Fix M7111-1931-404 Netflix Error:
On Mobile Device
Open Any Browser
Try Opening other sites like Google, Reddit, and others.
You can also install the Termux Application use the ping command similar to desktop.
On Desktop
Search for cmd if you are on Windows and Terminal on Linux and Mac.
Type Ping google.com
If you get the following output means the internet is working. If not then it will show Request Timed out.


ADVERTISEMENT. CONTINUE READING BELOW.
3. Reset Your ISP and Router Setting
Sometimes the error could be caused by a Router setting that may conflict with Netflix Resetting your router and isp setting should solve the problem.
4. Clear Browser Cache
Even after completing the above steps if it's not working then clear your browser cache completely. Delete all Apps and Cookies Data along with Chrome & Firefox history. This will log out completely from Netflix as well whichever account you have logged in to that browser. This is not recommended if you have some important login saved and do not have a backup of it. Make sure to take backup and enable sync before doing this.
For Netflix App
1. Go to device Settings.
ADVERTISEMENT. CONTINUE READING BELOW.
2. Look for the app setting.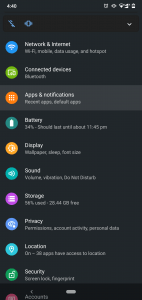 3. Search for Netflix App.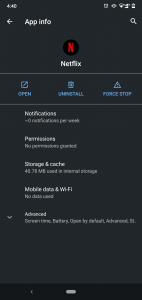 4. Click On Storage and  Cache. Then Clear Both Of them.
ADVERTISEMENT. CONTINUE READING BELOW.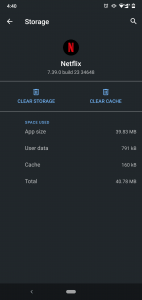 This Will Completely Reset the Apps. You need to log in again with all the details again.
5. Disable AdBlocker
If you are using any sort of Adblocker Extension in your Device then it's time to disable it. It could be the cause of the issue. Adblocker Blocks Scripts and Blocks from loading if they identify it as Ad. It maybe identify or blocks Netflix in some scripts.
6. Update Browser
Most of the browser gets automatically updated but if you are still using the old browser make sure to update it.
With these steps, you should be able to Fix M7111-1931-404 Netflix Error. Make sure to refresh the page on each step you performed. Let us know which step resolves your issue using the guide above?  in the comment section.