ADVERTISEMENT. CONTINUE READING BELOW.
Since Smart Phone has shifted an essential part of our life, and we need it for our most of our task. We tend to keep Our Devices with us, though sometimes we forget somewhere or someone steals them. In the case to be prepared before you lose your Android phone, tablet, or already lost it. Here, I will guide you on how did I find my device when I lost it and how you can do so and get your lost device back. In detail guide to finding the lost android phone.
Also will list out some working methods and tested phone locator apps and websites. These methods will help for sure to track a mobile phone. First will start with safety methods to ensure if I or you ever lost my phone you can easily find it. Most of the device comes with the inbuilt feature which is known as a different name for different companies. Mostly you may get it in settings. You Just need to log in to your account there and you are done. I'll list the names which you can get in your mobile settings.
ADVERTISEMENT. CONTINUE READING BELOW.
Sony devices: My Xperia
Redmi: I cloud
Le Tv: My LeEco App
Gionee: Track Service
Samsung: Find My Mobile Service
Stock Android: Find My Mobile
These are some popular companies that provide their own locate-a-device service using the GPS cell phone tracker service. Most of these use the GPS phone tracking function. Now,
What about other devices how to locate them?
As I said above most devices come with finding my mobile feature, but if your device has not or you couldn't see it. Then you can use the android device manager which is named now Find My Device App. In Android, all device requires to log in using the google account to use all Google services and sync other apps data. In this Google also takes your location history data and store it on a server. Which can be really helpful in finding your device. To completely enable that feature we will use the Find My Mobile app which lets you track your phone.
ADVERTISEMENT. CONTINUE READING BELOW.
Install  Find My Device app from the play store else click on the below icon Or You can either search about Google phone locator or ask to find my phone google to google assistant and follow the guide.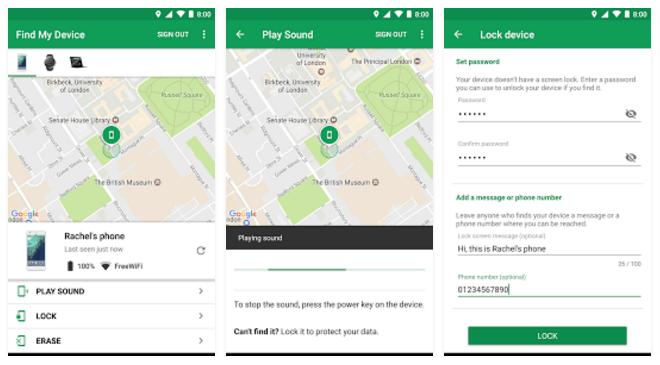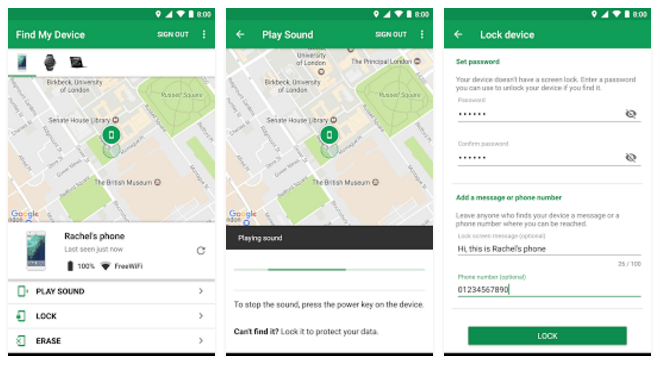 ADVERTISEMENT. CONTINUE READING BELOW.
Find My Device – also known as Google phone locator is the new and improved version of  Android Device Manager. It can help you to locate a lost Android device and keeps your information safe and sound by erasing the data remotely. It works with almost all the devices running Android version 4.0 and so on. Our Devices are using google accounts, and the information is in sync so will suggest you use this app instead of system ones.
How To Use Find My Device
Install the Find My device app from Google Play Store.
Select the account from which you logged in to your Device.
Enter the account password.
Allow Find My Device to access the device's location.
Now the app will show the current location of the device, battery percentage, and Options like:

Play Sound – Starts playing a loud ringtone of the device.
Lock and Erase – To Lock Or Erase the device select this Option

Now your last location, whenever connected to the internet, will be added to Google location history which was before known android device manager location history. Also, Can use the app to locate or lock the device from Other Devices.
This will enable your mobile device to connected to google servers and log your last location history. You can also use this feature to lock your device without touching it. This will ensure that you can monitor and half control your device online without even touching it.
How to locate and Lock the Device Remotely using the Find My Device
Now, what to do when you lost or someone steals your device. The first question comes. How to find my lost phone?
ADVERTISEMENT. CONTINUE READING BELOW.
How can I find my phone location? This is where Find My Device will help you to locate your device. If your device is still connected to the internet somewhere it will try to communicate with it, else it will show the last location of the device which was logged when it was connected to the internet. If your mobile is nearby and you forget where you kept it, you can use the option to play the sound on your phone. but to do all we need to have access to mobile or how to do it from another device. To do it through the app. Download the app on your friend's mobile or any android device you have and follow the steps below.
Open the app.
Now Select Sign In as Guest.
Enter Your Account Details.
After you logged in Device. The last location will be visible on the Map. Also, an option to block and delete your Device.
If you have any confidential or office document data which you wish to delete you can use erase option to do so or lock the device.
Note: The Map shows the last location of your device where mobile connected to the internet. The performed actions work, only when the device connected to the internet again.
5. To avoid the disconnection issue keep your Device connected to the internet by limiting the usage in standby mode.
How to lock and erase the device without using the app.
There Comes a problem when we don't have another device to install the app. Here I how to find phone computer using the App Website. This is simple and straight and the features are the same as the app. You can lock and erase it from the desktop. Let check out how to access it from the web browser.
Go to Android Find.
Log into your account. [Accout which used to login to the app]
And your Done. Similar to the image below will appear. The location of the device and other options will show.
Though this app is only limited, you can only locate, lock and erase the device.so let's see some alternative phone locator which has some extra features including find my mobile.
Alternative Phone locators and Alarm Apps
1.Lookout Security & Antivirus
Lookout Security & Antivirus free/paid all-in-one security app which comes with features like Wifi Protection, System Advisor, Identity Theft Protection, Identity Restoration & Insurance, and Find My Phone. With these features, you will be safe from Wi-Fi attacks, Get regular system advice from the app and the most important feature Identity Theft Protection.
Identity Theft Protection enables you to monitor personal and business information including social media watch by which you can monitor your social media accounts to check if your data at risk, and at last find my phone features.
The Process to enable find my phone features is similar to the apps above you just need to configure the app.
2.AMC Security – Clean & Boost
Advanced Mobile Care from IObit is actually a cleaner  & Booster but it comes with an Anti-thief feature which comes makes me add this to the list. This app is popular and trusted by over 20,000,000 users. It offers various features excluding clean & boost.
The anti-Theft feature of the app helps you to lock and alarm your lost device immediately. Once you have set up your device with this app and lost it after some time. You can lock your device instantly by just sending an SMS with the message 'alarm#' and password using any other device. If this method fails you can still locate and wipe your device by using the app on another device. To do so go to Anti-Theif>Tap on locate wipe data>Enter the number or id of the lost phone.
3.Family Locator – GPS Tracker
Family Locator lets you create your own groups, called "Circles," teammates — whoever matters most and chat with them in Family Locator. You can track stolen phones or lost phones, even the iPhone with a family locator.
Features:
Real-Time Location Data
Find Friends and Family.
4.Avast Antivirus
Avast is not actually a phone locator app, but it can come useful. It offers an Anti-Theif feature that locks the device if the sim card is changed or removed.
Conclusion:
These are the best methods to Protect and find your lost device. Excluding these, if any of these not works, you can either file a complaint or ask your sim operator to lock your sim card. To do this you need to work a bit but it's the best method instead of getting the device misused. If you have the device which is provided by the company, you can ask your company to block the device. That's all.
If you have any queries let us know in the comment section. 🙂