ADVERTISEMENT. CONTINUE READING BELOW.
Instagram's bio link feature provides an excellent opportunity to showcase content and work from outside the social network. Now, Instagram allows users to add up to five different URLs in this space, which expands the customization possibilities for personal and professional accounts.
This feature was not available natively on Instagram until the first half of April 2023. Before this update, users had to rely on other platforms like Linktree to add more than one address in the bio field.
ADVERTISEMENT. CONTINUE READING BELOW.
By allowing multiple links, content creators can easily expose their work on other platforms and competing social networks.
How to Add up to five links in the Instagram bio
Open the profile;
Select "Edit profile";
Tap on the "Add a link" option;
Choose "Add external link";
Paste the website address and add a title.
Save the change;
To add other sites, repeat the process.
If you have a Facebook profile linked to Instagram, add it to the list using the "Add Facebook profile" button.
ADVERTISEMENT. CONTINUE READING BELOW.
How to reorder the links on Instagram
In the profile settings, select "Add a link";
Tap the three dots icon in the upper right corner;
Select "Reorder links";
Drag each item to change the order.
How to remove a bio link
Open the links settings screen;
Tap on one of the options;
Press "Remove Links."
How to View Links in Instagram Bio
Profiles with multiple URLs in the bio will have a number next to them indicating the number of links. To view the links, users can tap or click on the highlighted URL to access the list.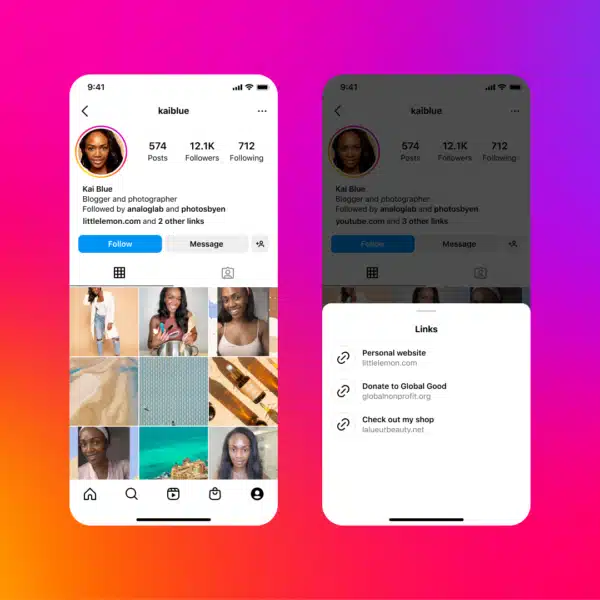 ADVERTISEMENT. CONTINUE READING BELOW.