ADVERTISEMENT. CONTINUE READING BELOW.
Communication has evolved alongside technology, and platforms like Discord have become popular due to their efficiency and versatility.
Initially embraced by gamers, Discord's user base has expanded, and its functionality has grown. Today, Discord serves various purposes, including finding study groups, connecting with artist and influencer communities, arranging group meetings, recording podcasts, and connecting with fellow gamers in your favorite game communities.
ADVERTISEMENT. CONTINUE READING BELOW.
Are you new to Discord or looking to explore it further? In this article, we'll guide you on creating and discovering servers within the platform.
How to Find Servers on Discord
1. If you want to discover new servers and connect with communities on Discord, follow these simple steps. Click on the compass icon, which is highlighted in the image below. On this page, you can search for servers and communities and explore public servers that are popular among Discord members.
ADVERTISEMENT. CONTINUE READING BELOW.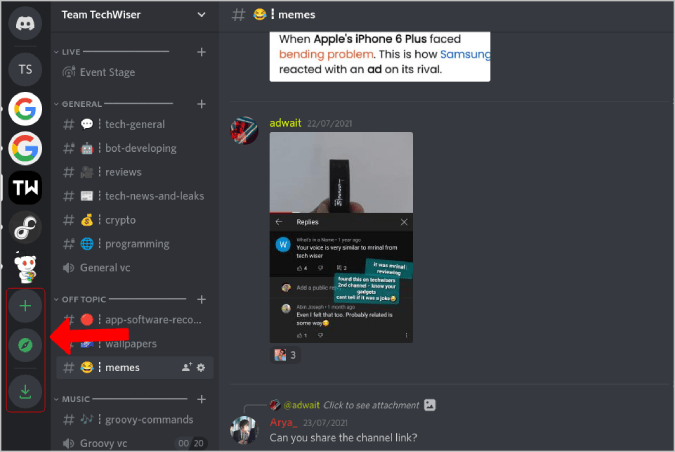 2. To join a new server, follow these easy steps. Just choose the server you're interested in and click on it. You'll then be taken to the server's main page, where you can explore and check it out, even before becoming a member.
ADVERTISEMENT. CONTINUE READING BELOW.
3. To become a server member, click "Join the server," remembering that this option is only available for public servers. In the case of private servers, an access link or an invitation by one of the users or administrators will be required.
Ready! Now you know how to find new Discord servers on your computer.
Check out now how to create a private server on Discord, both through the desktop app and on your mobile device. Check out how in the following few lines!
ADVERTISEMENT. CONTINUE READING BELOW.
How to Create a Discord Server on PC
1. To create a server on Discord from your computer, click on the icon with the "+" on your home screen;
2. Then you should click on the option "Create a server";
3. Then enter a name in your server to proceed, then click "Create";
4. You will see your server's home page, and you can customize it as you wish, in addition to inviting new users to your server.
What if I use Discord on mobile only? No problem! Next, you will learn how to create your server from your mobile device. The app is available for your Android and IOS devices.
How to create a discord server on a mobile
1. On the home screen, tap the icon with the "+" to create a server;
2. Then tap on "Create a server";
3. To proceed, it is necessary to insert a name in the configuration of your server, then click on the option "Create";
4. Then, you will be able to view the home page of your server. It will also be possible to configure it and even invite new members.