ADVERTISEMENT. CONTINUE READING BELOW.
If you're trying to upgrade from Windows 10 to the latest Windows 11 but encounter the frustrating 0x8007007f error, don't worry. This error message doesn't give you much information about what's causing it, and it's not likely due to issues like a missing TPM chip or other compatibility problems that a Windows 11 compatibility check might catch.
The good news is that there are several workarounds you can use to fix error 0x8007007f and smoothly upgrade to Windows 11. These workarounds are designed for users to perform independently, so you have the power to resolve the issue on your own.
ADVERTISEMENT. CONTINUE READING BELOW.
By following the recommended steps and solutions, you can overcome error 0x8007007f and ensure a successful upgrade to Windows 11. It's important to carefully explore these workarounds, as they address common underlying causes of the error.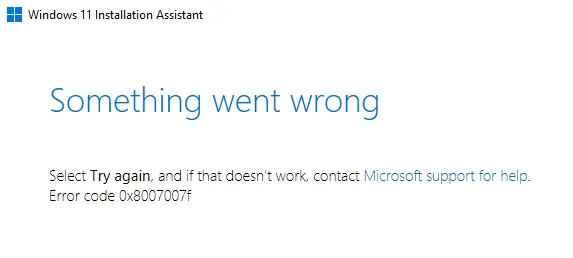 ADVERTISEMENT. CONTINUE READING BELOW.
This can be done against error 0x8007007f
One classic solution to this problem is quite simple: try restarting your system and then attempt the upgrade again. It might sound basic, but sometimes, a fresh start can magically resolve the issue, and your upgrade process may proceed smoothly.
You can opt for an alternative method if that doesn't do the trick. You can upgrade to Windows 11 using an ISO file. To do this, you'll need to download the Windows 11 ISO file in advance. Tools like the Media Creation Tool or scripts are available to help you with this download. Once you have the ISO file, you'll want to mount it as a virtual DVD drive.
ADVERTISEMENT. CONTINUE READING BELOW.
This setup lets you manually kick off the upgrade process by running the setup.exe file from the mounted ISO. By using this approach, you bypass Windows Update, and in doing so, you might avoid running into that pesky error 0x8007007f.
Reset Windows to factory settings?
Another effective solution for dealing with error 0x8007007f and facilitating a seamless upgrade to Windows 11 is to execute a factory reset of your Windows 10 system. This process reverts your operating system to its original state, removing any third-party programs or applications that weren't part of the manufacturer's pre-installation. The good news is that your personal data will remain untouched throughout this reset.
Performing a factory reset can potentially resolve underlying issues or conflicts that might be hindering the smooth progression of the Windows 11 upgrade. It essentially offers a fresh start for the upgrade process, which can help eliminate any lingering compatibility problems.
ADVERTISEMENT. CONTINUE READING BELOW.
However, it's important to be cautious and create backups of your essential files and data before embarking on the factory reset. This proactive measure ensures you can quickly restore your data after the reset.
By taking these steps and exploring various solutions, you significantly improve your chances of conquering error 0x8007007f and experiencing a successful upgrade to Windows 11. Just make sure to follow the steps carefully and, if needed, consult reliable sources or seek assistance.