ADVERTISEMENT. CONTINUE READING BELOW.
Whether you accidentally bought an app or forgot to cancel a subscription's free trial, Apple provides a refund program to help you out. Although approval isn't guaranteed, you have a good chance, especially if your situation aligns with the refund policies.
Here's a simple process: Apple has a dedicated website for the program, showing your purchase history across iOS, macOS, and iPadOS. Accessible on any device with internet, it's free to use. Before diving in, check the Apple Media Services Terms and Conditions, which might vary by country.
ADVERTISEMENT. CONTINUE READING BELOW.
Remember, this is a courtesy program, so use it for genuine mistakes, not to take advantage. Repeated misuse may disqualify you from future refunds. Here's a straightforward guide on how to request a refund on the App Store:
Learn how to easily request a refund for purchases on the App Store by following the steps we prepared below.
ADVERTISEMENT. CONTINUE READING BELOW.
Requesting a refund for App Store purchases
1. Go to reportaproblem.apple.com and sign in with your Apple ID and password.
2. Under "How we can help you," open the drop-down menu and choose the option "Request a refund."
ADVERTISEMENT. CONTINUE READING BELOW.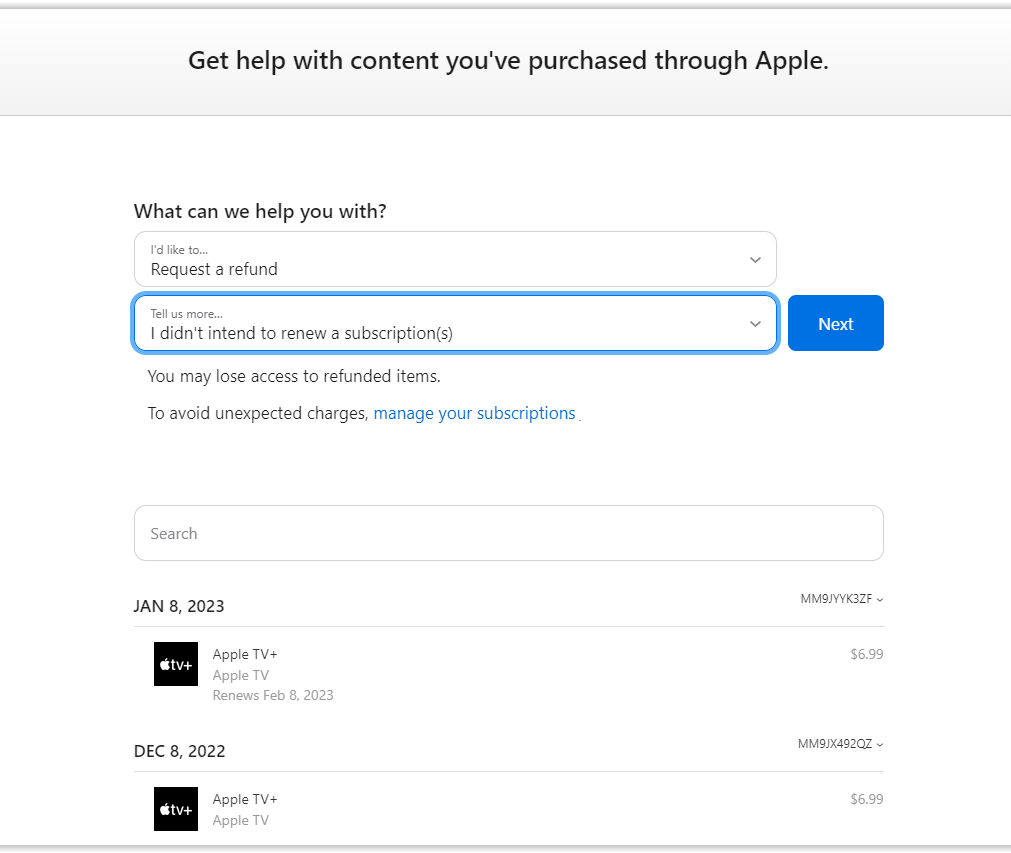 3. Open the "Tell us more…" drop-down menu to provide the reason for requesting the refund.
4. Click "Next".
ADVERTISEMENT. CONTINUE READING BELOW.
5. Choose the item for a refund and click next again.
6. Report the problem in the text box, then click "Submit".
How do I know if I got a refund?
After you've requested a refund, Apple typically responds within 48 hours. They'll notify you through your Apple ID email, or you can check the status at reportaproblem.apple.com. It's important to note that the refund process will revoke access to the purchased item or subscription plan.
If your refund request is approved, the money will be returned using the same payment method. The timeframe for the funds to reappear in your account or on your invoice varies depending on the payment type:
Store credit: The refund can take up to 48 hours to appear in your Apple ID credit balance.
Mobile billing: It can take up to 60 days for your refund to appear on your invoice. This will depend on each carrier, and you can contact them to find out the status of your order.
Other payment methods: It may take up to 30 days for your refund to appear on your invoice. If the chargeback does not appear, contact your bank.