ADVERTISEMENT. CONTINUE READING BELOW.
You're in luck if you're seeking a simple and efficient way to create Mind maps on your iPad or iPhone. In today's digital era, numerous applications cater to your visual organization needs right from the convenience of your mobile device, specifically your iPad.
These mobile tools are invaluable for structuring outlines and summaries for presentations and various academic endeavors at the school or university level. With these applications, you can effortlessly capture and organize your ideas visually and engagingly.
ADVERTISEMENT. CONTINUE READING BELOW.
Mind Map Apps for iPad and iPhone
1. MindMeister
MindMeister is an exceptional application designed specifically for iPad users who want to create Mind maps with ease and efficiency. This powerful tool offers a user-friendly interface and a wide range of features, making it a go-to choice for visualizing and organizing ideas.
It offers a range of features that enable you to create up to 3 mind maps for free. This tool allows you to customize colors and styles, add notes and links, and establish node connections.
ADVERTISEMENT. CONTINUE READING BELOW.
In addition to its basic functionalities, MindMeister allows you to play presentations, share maps with others, and collaborate in real-time. Its user-friendly interface ensures ease of use and supports multi-touch functionality, enhancing the overall user experience.
Whether you're a student, professional, or individual seeking to structure your thoughts and concepts, MindMeister provides a convenient platform to create visually appealing and well-organized mind maps.
2. Lucidchart
Lucidchart is a versatile mobile tool that allows you to create diagrams and workflows on your iPad effortlessly. With its intuitive interface and powerful features, Lucidchart provides a seamless experience for creating and editing documents.
The platform offers a wide range of pre-designed templates and special functions, such as drag and drop, enabling you to build professional-looking diagrams quickly. You can easily customize your diagrams to suit your specific needs and preferences.
In addition to its creation capabilities, Lucidchart offers convenient export options, allowing you to save your documents as PDF, PNG, or Microsoft Visio files. You can share your diagrams with others via email or generate sharing links for collaborative work.
3. MindNode – Mind Map & Outline
MindNode is an excellent choice for creating mind maps on your iPad, offering a range of features that allow you to capture and organize your ideas in various forms. Whether through words, images, links, tasks, or notes, MindNode provides a versatile platform to bring your thoughts to life.
With its intuitive interface, you can easily move, label, connect, and separate your thoughts as needed, creating a visual representation of your ideas. The app offers customization options, including custom themes and stickers, allowing you to personalize your mind map to reflect your unique style and preferences.
MindNode is a powerful tool for unleashing creativity and streamlining thought processes. It enables you to transform abstract concepts into clear, structured visualizations, making understanding and exploring your ideas easier.
4. iThoughts – Mind Map
iThoughts is a convenient option in the Apple App Store for creating mind maps and organizing your ideas, tasks, and projects.
With its range of project planning and activity management features, iThoughts proves to be a valuable tool for students and individuals seeking an efficient organizational app.
One of its notable advantages is the ability to export your mind maps to multiple formats, including Excel, PDF, PNG, and more. This enables seamless sharing and integration of your creations with other platforms and collaborators.
5. Ayoa – Mind Mapping, Whiteboards & Tasks
Ayoa offers many features, including mind mapping, task management, and collaborative tools. Ayoa provides a seamless and visually appealing platform for individuals and teams to brainstorm ideas, plan projects, and prioritize their tasks.
Whether you're a student, professional, or creative thinker, Ayoa offers a flexible and innovative solution to help you boost productivity and achieve your goals.
6. MindFlow – Struct Flow Diagram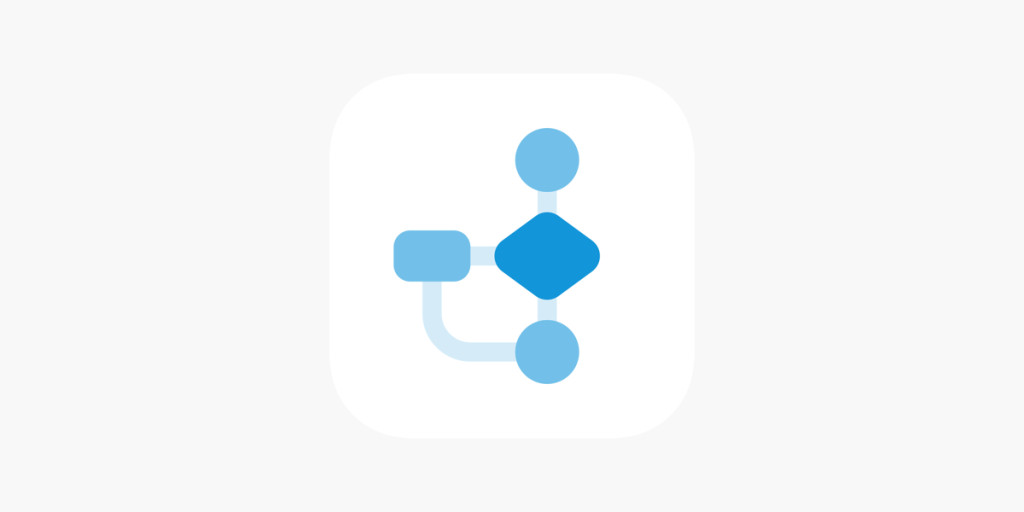 MindFlow – Struct Flow Diagram app designed to create and visualize structured flow diagrams. Its user-friendly interface and extensive tools make it easy for users to map out processes, workflows, and decision trees effectively.
With its intuitive drag-and-drop feature, customizable shapes and connectors, and the ability to add labels and descriptions, MindFlow empowers users to create well-structured and organized diagrams.
Whether you're a software developer, project manager, or anyone needing to represent complex information visually, MindFlow is a reliable and efficient solution for creating structured flow diagrams effortlessly.
7. Miro: Online whiteboard
Miro is an impressive online whiteboard platform facilitating seamless collaboration and idea generation for individuals and teams. It provides a digital workspace where users can effortlessly create, edit, and share visual content like diagrams, mind maps, and sticky notes in real time.
Miro offers a diverse collection of pre-designed templates and shapes, enabling easy organization and structuring of information. The platform fosters smooth collaboration by allowing multiple users to contribute simultaneously, leave comments, and engage in productive discussions.