ADVERTISEMENT. CONTINUE READING BELOW.
Bluesky is a recently launched microblogging social network being promoted as a significant competitor to Twitter. The platform is designed to allow users to create short, concise content in a continuous timeline, and its interface resembles the Blue Bird.
One of the unique features of Bluesky is the use of the AT Protocol, an exclusive protocol that enables different social networks to communicate within the same space. This is similar to how email systems and phone numbers work – regardless of your provider, manufacturer, or operator, you can communicate with others seamlessly.
ADVERTISEMENT. CONTINUE READING BELOW.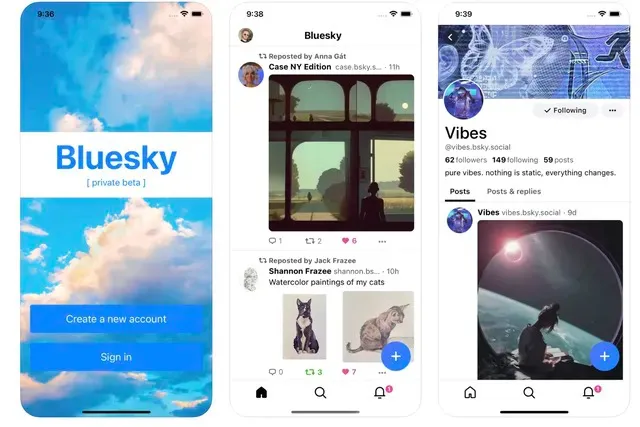 In addition, Bluesky will have an open-source code available to everyone, meaning anyone can examine the data or create valuable solutions. With no corporate control, the community has a more democratic say in the direction of the service.
ADVERTISEMENT. CONTINUE READING BELOW.
Bluesky's History
Bluesky's inception is closely connected with the evolution of Twitter, as the project was initiated with Twitter's support in 2019. The concept was to create an open system that would enable a less centralized network while retaining the essence of the service.
This isn't going to happen overnight. It will take many years to develop a sound, scalable, and usable decentralized standard for social media that paves the path to solving the challenges listed above. Our commitment is to fund this work to that point and beyond.

— jack (@jack) December 11, 2019
Jay Graber, a specialist in decentralized social networks and a critic of the concentration of power in the hands of Big Techs, is the founder of Bluesky. The board of directors includes Twitter's founder and former CEO, Jack Dorsey, and Jeremie Miller, inventor of Jabber/XMPP technologies.
Dorsey's idea for Bluesky was to help bring back the roots of his social network, as it was in the late 2000s. The platform emerged in 2019 with encouragement from Twitter and came under threat when Elon Musk announced the purchase of Twitter for $44 billion. To avoid the conflict, Dorsey disassociated himself from Twitter and founded Bluesky as a new company.
The Bluesky waitlist opened in October 2022. Bluesky's primary differentiator is the use of the AT Protocol, which allows various social networks to communicate with each other in the same space. The platform's source code is also open to everyone, enabling anyone to study the data or develop utility solutions. The community, rather than corporate control, dictates the direction of the service more democratically.
How to get an invitation on Bluesky?
There are two main ways to get an invite to Bluesky:
Register on the Bluesky website ( bsky.app ) to wait on the waiting list;
Receive an invitation from a user to cut corners.
The second option is more effective but more problematic, requiring an invite code for immediate access. Users on the waitlist may have to wait for an unknown amount of time before being able to join the social network.
An existing member must send an invite code to enter the platform through this guest system. This ticket model is reminiscent of the invite system used by Orkut and, more recently, Clubhouse.
However, the main issue with this system is that users can only invite one person per week, which means that in a month, they can only invite a maximum of four people. This is significantly less compared to the large number of friends and followers on other social networks.
How do I know if I have an invitation to send?
Users with available invitations on Bluesky can easily find them in the Side Menu, located just below their list of followers and the people they follow. They can look for the ticket icon displaying the number of invitations available and the text "invite codes."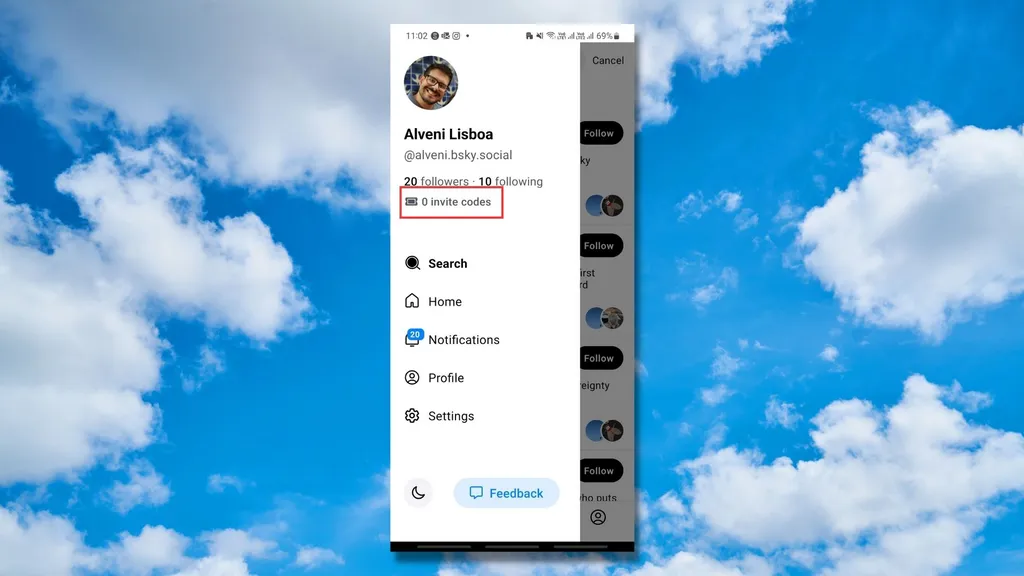 Bluesky vs. Twitter
Bluesky's interface is quite similar to older versions of Twitter, with two timelines (one algorithmic and the other for followers), four lower tabs, a side menu, short posts, and interactive tools like, like, repost, and comment. However, Bluesky currently lacks some features compared to Twitter, such as support for videos, audio, or GIFs. Nonetheless, it does allow users to attach external links and images.
Currently, Bluesky does not offer subscription plans or many options for profile customization. As the platform is still in the testing phase, only English is available, though users can publish content in any language they choose.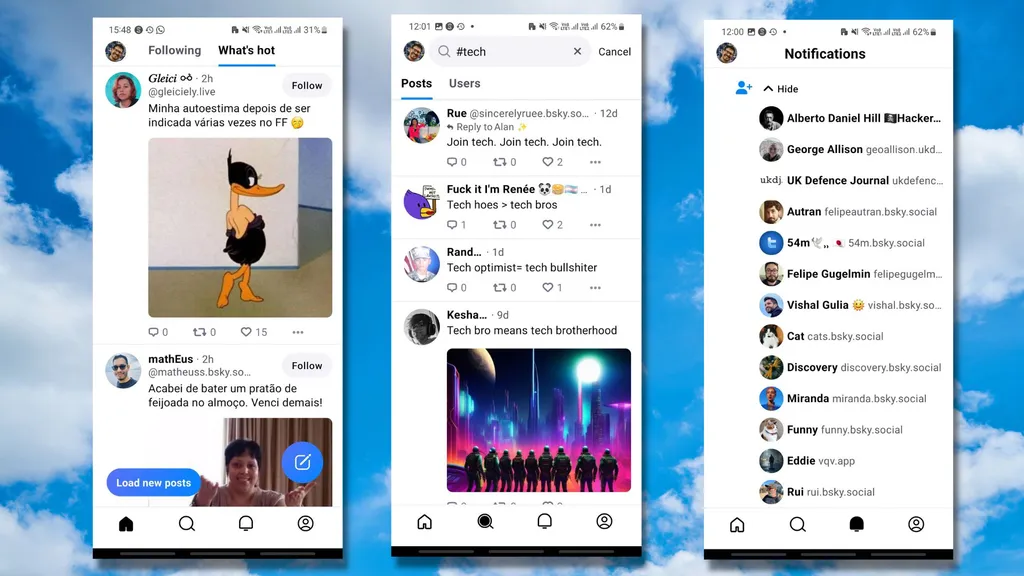 It's worth noting that there is a difference in loading speed between Bluesky and Twitter. Bluesky takes a few seconds to load posts, even those you have already read, while Twitter loads almost instantly and updates news quickly.
Regarding the federated system, it is almost imperceptible as you can register using the address @username.bsky.social. In the future, when other domains become available, people may find the lengthy identification confusing, but for now, it is as simple as creating a Twitter account.
Is Bluesky worth it?
The decision to use Bluesky depends on one's specific needs and preferences. For individuals who use the platform to connect with friends, it may be an excellent choice if their friends already use it since there will be less competition for attention.
However, companies and brands that aim to promote their products may find it too early to utilize the platform. Like Mastodon and Koo, which had a surge in growth during the Twitter crises, Bluesky seems to be experiencing a similar pattern. However, the number of users is still limited due to restricted access.
In the initial phase, people tend to be enthusiastic about following everyone, liking various content, and building their presence on the social network. However, this excitement can fade, leading to a loss of everything built on the platform.
Therefore, it is advisable to use Bluesky without any expectations, constantly repurposing the content for other social networks, and being mindful that things could go wrong. The next six months will be critical in determining the success or failure of Bluesky.