ADVERTISEMENT. CONTINUE READING BELOW.
Reading is an important habit that many people struggle to incorporate into their daily routines. Fortunately, several mobile applications can help monitor reading time and encourage users to read more.
Whether you're an avid reader or just starting, tracking your reading time can be valuable in achieving your reading goals. These apps can help you set daily reading goals, track your progress, and provide you with reading statistics to help you stay motivated.
ADVERTISEMENT. CONTINUE READING BELOW.
Making reading a part of your daily routine can improve your cognitive abilities, reduce stress levels, and expand your knowledge on various topics. So why not try these apps and start making reading a regular part of your day?
Best Book Reading Trackers
1. Bookly: Book & Reading Tracker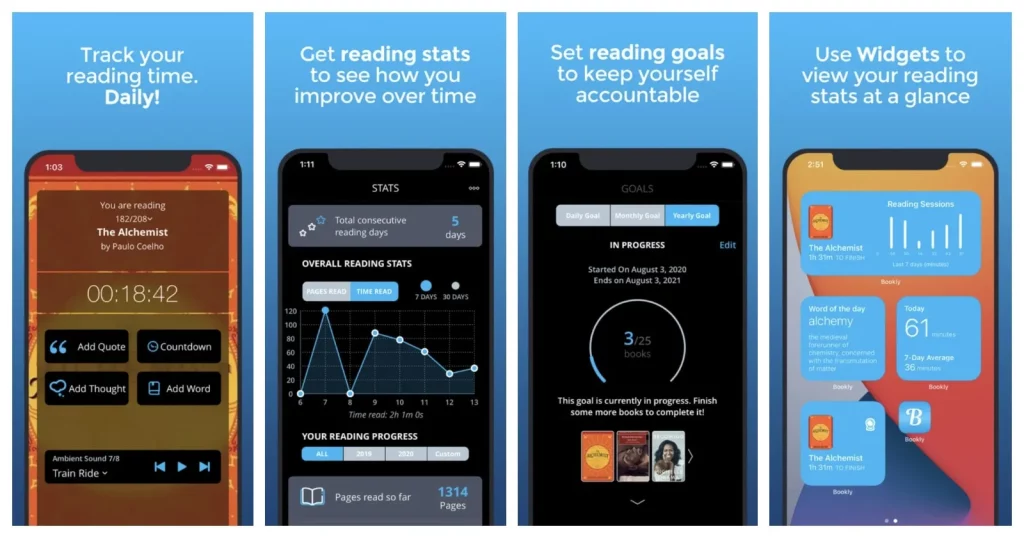 ADVERTISEMENT. CONTINUE READING BELOW.
Bookly is a helpful app that enables users to monitor their reading progress by keeping track of books read and time spent reading. The app has various features that help users set reading goals, monitor reading statistics, and receive personalized book recommendations.
Users can scan the ISBN barcode or search for the book title to add books to their reading list. Bookly also allows customization options, such as creating reading challenges and setting reading goals based on the number of pages or time spent reading.
ADVERTISEMENT. CONTINUE READING BELOW.
The app's tracking features allow users to monitor their reading habits and set realistic book completion goals. Detailed statistics on reading time, pages read, and progress towards goals are available to users, which can be helpful for motivation and tracking progress over time.
Furthermore, Bookly provides personalized book recommendations based on the user's reading history, offering suggestions for new authors and titles to explore. With its intuitive interface and useful features, Bookly is an ideal tool for anyone looking to keep track of and enhance their reading habits.
2. The StoryGraph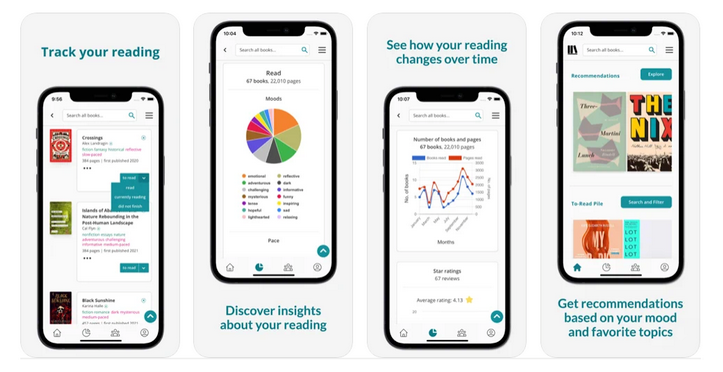 ADVERTISEMENT. CONTINUE READING BELOW.
Like Bookly, StoryGraph is an online platform for book lovers that provides book tracking and personalized book recommendations based on their reading history and preferences. Users can easily create a profile, log the books they have read, and rate and review them.
The platform employs an advanced algorithm that considers the user's reading history, preferred genres, and other factors to generate book recommendations that align with their interests. The StoryGraph provides reading challenges, book clubs, and progress-tracking features to help users achieve their reading goals.
Moreover, The StoryGraph offers a social aspect where users can interact with other book enthusiasts, follow each other's reading progress, and engage in discussions about books and reading. The platform also hosts virtual book clubs and events where users can participate and engage with authors and other readers.
The StoryGraph is an excellent platform for book lovers who wish to discover new books and engage with a vibrant community of like-minded individuals. With its personalized recommendations and social engagement features, The StoryGraph provides a fantastic reading experience for its users.
3. Book Breeze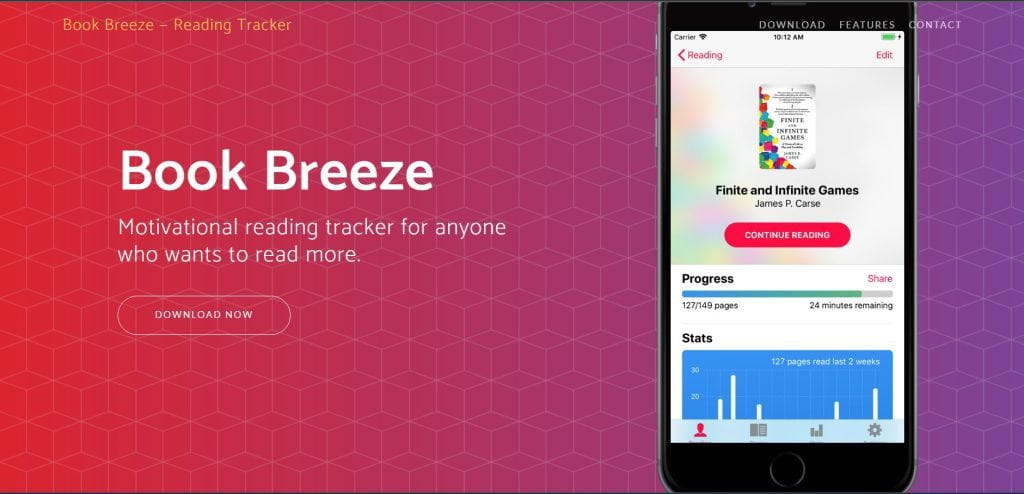 Book Breeze is a reading app with a minimalistic design with only a few features. However, the app effectively performs its core function, tracking reading progress.
Although the app does not offer many additional features, it is a reliable tool for keeping track of books and reading goals. Users can easily add books to their virtual bookshelf and track their reading progress by updating the number of pages or chapters they have completed.
While it may not be as popular as some other book-tracking apps, Book Breeze is a straightforward and practical tool for those who want to track their reading progress without unnecessary distractions or complex features.
The App is only available for iOS.
4. Reading List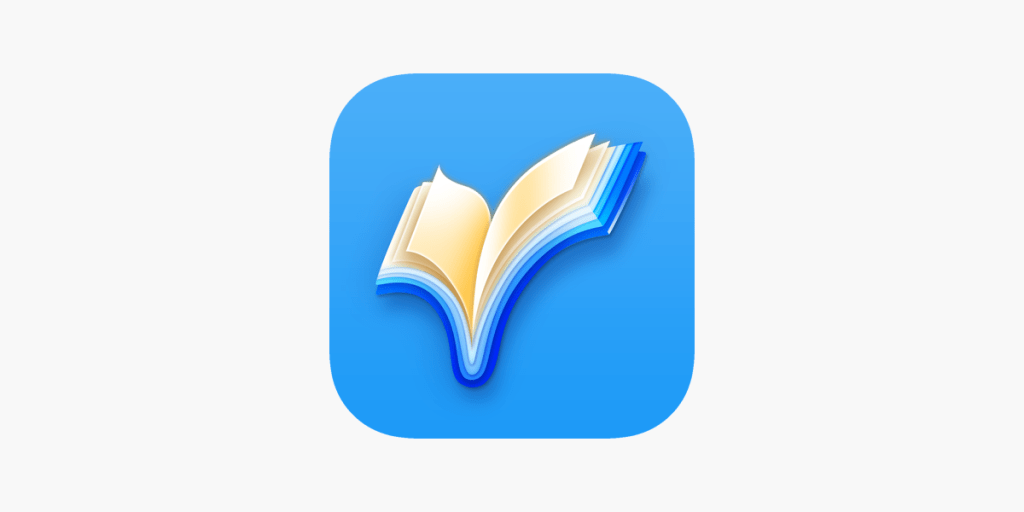 Reading List is an iOS application that assists users in keeping track of their reading progress by allowing them to log the books they have read and the time spent reading. The app provides a simple and intuitive interface, allowing users to easily add books to their reading list by searching for titles and authors or scanning the ISBN barcode.
Once a book has been added, users can set a start and end date, track the number of pages or percentage of completion, and add notes or ratings. The app also includes a progress bar that displays the user's progress toward their reading goal.
Reading List allows users to categorize their books by genre, read status, or custom tags, making organizing and filtering their reading list simple. The app also provides statistics on reading habits, such as the number of books read, total reading time, and average reading speed.
Users can customize their reading goal by setting a target number of books to read, a reading challenge, or a deadline. The app will then send reminders and notifications to help users remain on track and accomplish their goals.
Keeping track of your reading time can be a helpful approach to staying on track and reaching your reading objectives. Nowadays, numerous apps are available to make it easier to track your progress and get customized book recommendations based on your reading history and preferences.
Whether you prefer a more basic app like Reading List or a sophisticated platform like The StoryGraph, there is an option to improve your reading habits and explore new books. It's worth giving one of these apps a chance to enhance your reading experience and achieve your reading goals.