ADVERTISEMENT. CONTINUE READING BELOW.
It surely isn't easy getting to know the system of your entire Android phone. There are so many software and updates which we aren't even aware of. Getting the entire knowledge about your phone may seem like a task, and that is why I am here to help you.
In this article, we would talk about the Blue light filter apps which you could easily download on your Android phones. The light emitted by your cellphone can cause strain on your eyes. This blue light filter application helps in reducing the strain. Read on!
ADVERTISEMENT. CONTINUE READING BELOW.
Blue Light Filter Apps For Android
1. Easy eyes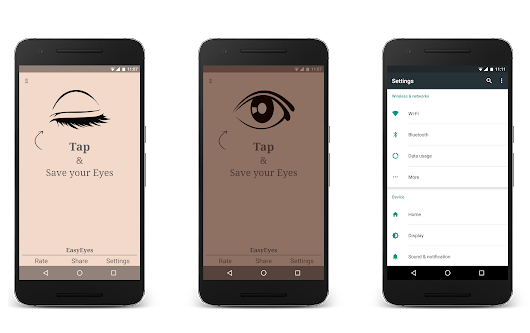 Easy eyes as the name suggest it goes easy on your eyes and lets you dim the brightness and also allows you to cut down the blue light. The application has built-in features such as a temperature filter and a cool notification toolbar, which gives you quick access to the application.
ADVERTISEMENT. CONTINUE READING BELOW.
The app also allows you to manually set a different schedule for sunrise and sunset according to your own time and need. The app is free to download and works great with Android 4.0 versions.
2. Darker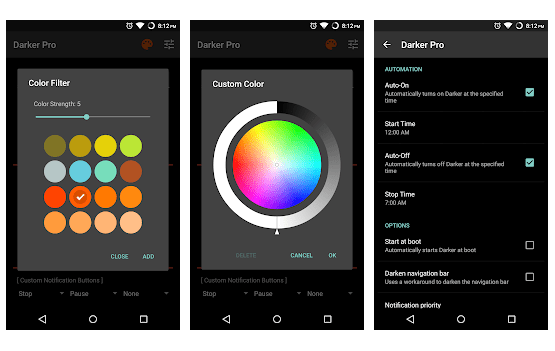 ADVERTISEMENT. CONTINUE READING BELOW.
This app almost works the same as others, but the interface is a bit elaborate and different. The best thing about this app is that it comes with a color filter and lets you pick from a wide range of different colors. This also lets the users have an excellent dusky filter, but it won't be the most popular option for night-time reading.
This app is free to download, but there are some in-app purchases. The app is not accurate for the blue light filter, but it gets the work done by lowering the brightness by 20%.
3. Twilight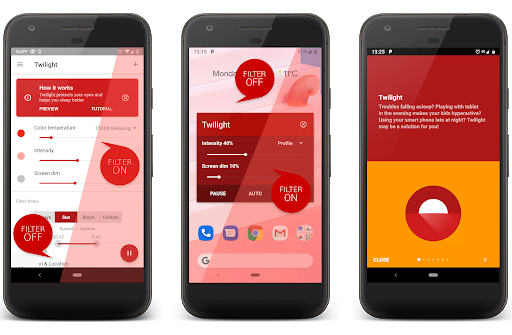 ADVERTISEMENT. CONTINUE READING BELOW.
This app has been there for quite some time now even after Google made a few changes to certain Android versions. The best thing about this app is that it adjusts the light depending on the surrounding, which means if you are in Daylight, it will adjust the brightness accordingly and vice versa with Nighttime.
It is fit for every screen and all the display types and also works amazingly as far as the blue light feature is concerned.
4. Blue light filter and Night mode
The name of the application is sort of a given as to what features would it have or what would it offer to its users. The best thing about this app is that it uses a combination of five anti-glare blue light filters that are ideal for removing the excess strain on your eyes for that bedtime reading.
There is also a temperature palette available which works as an alternative for the night mode present on all phones. It also has a dim light feature which works amazingly for night-time purpose. It works great on all Android cell phones. This app also works great to save the battery of your smartphone.
5. Night shift
The main reason to download the Nightshift app would be to save battery, as this is the claim of the developers that it saves battery life up to 15%. The brightness gets dimed automatically when the phone is not in use. It also allows you to adjust and set the auto timer option whenever you need to use certain features of the application.
This app is great for some night reading as it has an automatic blue light feature. This is free of cost so users can download it anywhere from App Stores like ACMarket and PlayStore.
In the end, I would like to suggest that try not to use your phone for reading purposes at night time, but if it is something work-related, surely download one of the above-mentioned applications for strain-free reading.