ADVERTISEMENT. CONTINUE READING BELOW.
In general, the type of text file in PDF can be used for the most different purposes; one of the most common is to create forms or documents for corporate use. Another specific case is ebooks; many digital books are formatted and saved in PDF to facilitate reading on different devices.
So let's check out the Best PDF Reader for Android.
ADVERTISEMENT. CONTINUE READING BELOW.
Best PDF readers for Android
1. Adobe Reader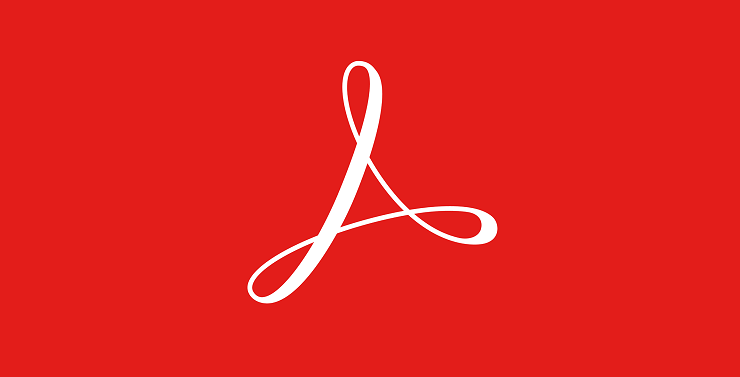 Price: Free with in-app purchases
ADVERTISEMENT. CONTINUE READING BELOW.
Adobe Reader is unquestionably the most popular app on the list in general. In most cases, it ends up being the first choice for people already used to access Reader on their desktop computer.
This app lets you view, annotate, fill out, Sign, and Edit PDFs. In addition to reading PDF files, it can connect to cloud storage services like Dropbox and Adobe Document Cloud.
ADVERTISEMENT. CONTINUE READING BELOW.
Adobe Reader is an excellent option for converting the file to another format or seeing if it's been tampered with. The paid version includes additional features, like exporting PDF files in different formats. It's Available in almost all Versions of Android.
2. DocuSign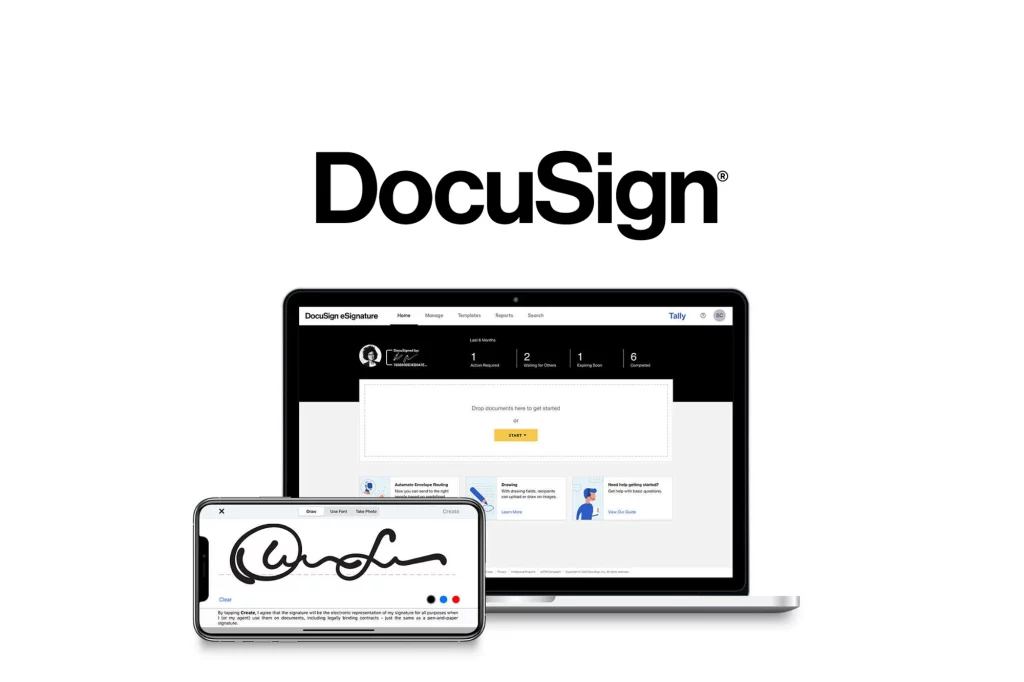 Price: Free with in-app purchases
ADVERTISEMENT. CONTINUE READING BELOW.
DocuSign has been around for a while, but they've customized their application to focus specifically on corporate use. Reader functions include opening saved PDF documents and allowing you to fill, sign, and send documents without hassle from the app.
Unlike the other applications mentioned, DocuSign also has several paid plans to accommodate different types of use. It's worth checking if any of these versions are right for you.
3. ReadEra – book reader pdf epub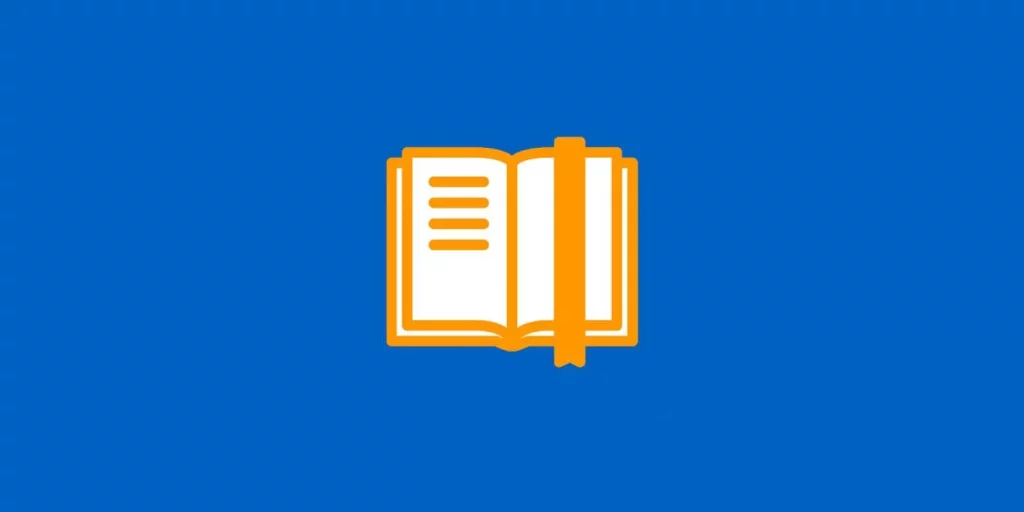 Price: Free
ReadEra — Book Reader allows reading any book for free, offline in your desired format such as PDF, EPUB, Microsoft Word (DOCX, DOC), Kindle (MOBI, AZW3), DJVU, FB2, TXT, ODT, and CHM.
This app lets you read books and view PDFs without ads or any purchase required. And it's available on PlayStore.
4. Fast Scanner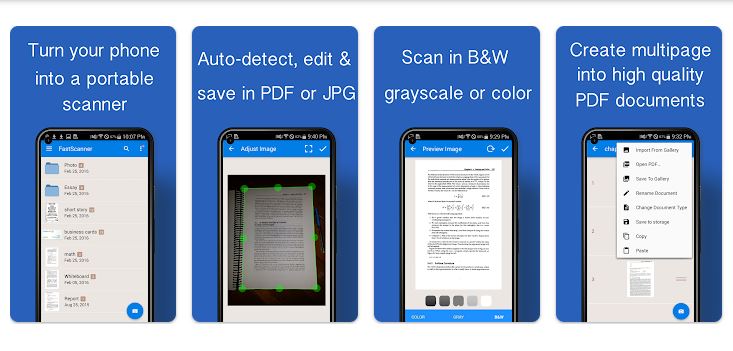 Price: Free with in-app purchases
Fast Scanner has some of the same features as CamScanner but does not offer them all. You can use your smartphone to scan documents and then save them in different formats for digital distribution, such as JPEG or PDF.
Improving the quality of your scans is essential, which is why multiple options exist within this free scanner. The app has some paid features, but the most useful ones are already included in the free version.
5. Foxit PDF Editor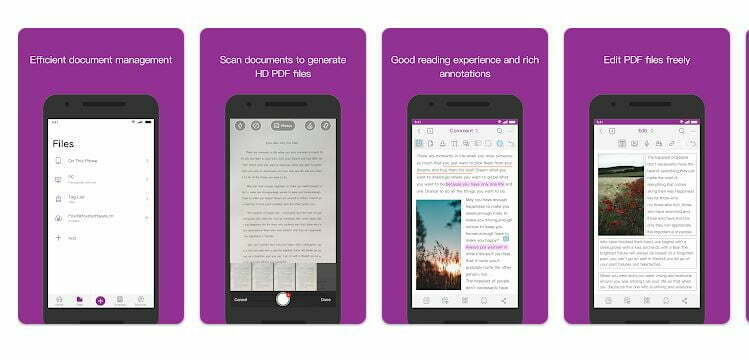 Price: Free with in-app purchases
Foxit is an excellent choice for reading ebooks. It includes special navigation features with large documents saved in PDF; support for tagging pages; organization by name or size of files stored on the cloud; and more.
The difference in the paid version and the free version is that the latter does not support security features, such as passwords on files.
6. Google PDF Viewer
Google offers an easy-to-use PDF viewing app for anyone who wants to read PDF files without the hassle of other features. One of the great features is that it integrates with your Google Drive account and Docs, Sheets, and Slides. You can choose which files to read directly from your Drive in Google's reader.
The app is simple but has various features you'll find helpful. Downloading it will appear as a new icon in your app drawer, but you can open any PDF file on your Android devices through the menu button and search tool. You don't need to have the app running to open any PDF files. Although simple, this app is free and available on Google Play.
7. MuPDF viewer
MuPDF cares about speed and extra features. The reader supports encryption, hyperlinks, annotations, search tools, and the ability to view high-quality PDF documents.
MuPDF supports XPS and OpenXPS formats, so you should consider it if you constantly work with files in these formats. It is one of the few free readers that offers comprehensive readability.
8. WPS Office-PDF, Word, Excel, PPT
The WPS Office + PDF app has exciting features for office work and viewing PDF documents. One is the ability to convert more than one document at a time to PDF and view them natively.
This freemium app lacks some of the highly specific features of its other competitors, but it can still be a respectable office suite or PDF reader.
These best PDF Readers are available on Playstore and are safe to use. Did we miss an app you know from the list? Leave your suggestions in the comments.