ADVERTISEMENT. CONTINUE READING BELOW.
Interested in starting your podcast but not sure where to begin? Well, selecting the right platform for recording is a crucial first step. Discord is an excellent option worth considering. It's free and allows you to create and record group conversations.
Initially popular among gamers, Discord is now gaining popularity in the podcasting world thanks to its impressive audio quality.
ADVERTISEMENT. CONTINUE READING BELOW.
With the help of a platform bot called Craig, you can record any audio call and receive the final material neatly organized into separate tracks for each participant. This feature is particularly handy for editing your podcast. Let's dive in and learn more!
How to Record a Podcast on Discord
1. The first step is to create a server within Discord. It works as a group, in which you can add multiple users and categorize them into channels. Open the application and, in the sidebar, click on "Add a Server." Then select the "Create a server" option;
ADVERTISEMENT. CONTINUE READING BELOW.
2. Then enter the name and photo (optional) for the server and click "Create";
3. Right after creation, a window will offer the options to invite friends within the platform or share an access link;
4. The next step is to add the Craig bot to the created server. Open the bot's website and click "Invite Craig to your Discord server."
ADVERTISEMENT. CONTINUE READING BELOW.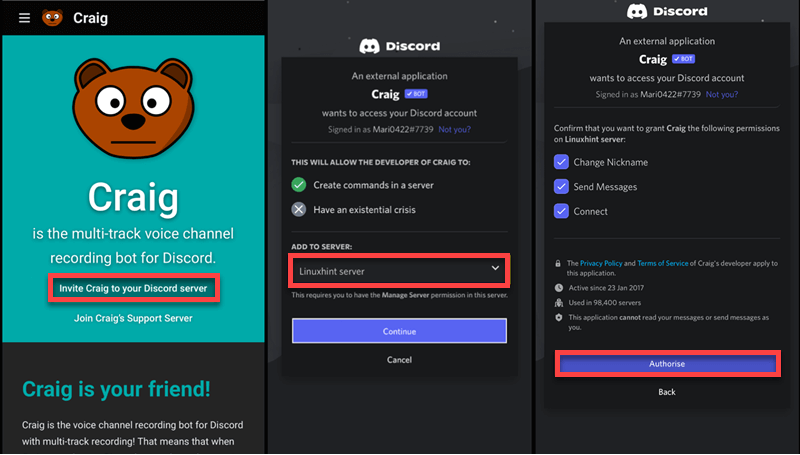 5. In a new browser tab, log in and choose the group to include Craig. Only users with the ability to manage the server can add the bot;
6. Craig will be added as a member of the server. Under "Voice Channels," click "General" to start an audio conversation;
ADVERTISEMENT. CONTINUE READING BELOW.
7. With the call initiated, type the command ":craig: enter" in the message box of the server for the bot to start recording the audio;
8. The bot will emit a sound to confirm the start of the recording and send a private message containing the audio download link. The recordings have a maximum duration of 6 hours and are available within 168 hours after the start of the command;
9. To stop recording, type the command ":craig:exit" in the server message box;
10. Open the link provided by Craig. To download the audio file, click on the blue format buttons. Files in the multi-channel category have the content divided into individual tracks for each participant. There is even a format dedicated to Audacity, a popular free audio editor.
Have you ever recorded a podcast through Discord? Comment on your experience!