ADVERTISEMENT. CONTINUE READING BELOW.
You can convert your accumulated Microsoft Rewards points into gift cards for various products, including Spotify, Skype, and Xbox Game Pass. To maximize your rewards, you might wonder if transferring points from one account to another and combining their values is possible.
What are Microsoft Rewards?
Microsoft Rewards is a loyalty program designed for users of Microsoft services. It offers various options for earning points, including Bing searches, Edge browsing, Store purchases, and Xbox in-app activity.
ADVERTISEMENT. CONTINUE READING BELOW.
Participation in the program is automatic for every account created on the platform, and points are accumulated by achieving objectives. These points can be redeemed for rewards, such as gift cards and benefits like Xbox Game Pass, Netflix, and Spotify subscriptions.
Can I transfer Microsoft Rewards points to another account?
As of 2021, Microsoft no longer allows the transfer of points between accounts within the same family group. The function was removed without indicating when or if it would be reinstated. Moreover, rewards for Microsoft products are tied specifically to the redeeming accounts and cannot be combined with other accounts to increase the overall score.
ADVERTISEMENT. CONTINUE READING BELOW.
While sharing the code of a gift card from another store or app with someone else is possible, merging accounts to accumulate a higher score is not possible in these instances.
How to redeem or donate Microsoft Rewards points
On PC or mobile, go to rewards.bing.com/redeem ;
Log in with a Microsoft account;
See the score at the top of the screen;
Choose one of the available options and confirm the redemption;
For donations, select the "Donate" tab;
Choose a foundation and select the amount used.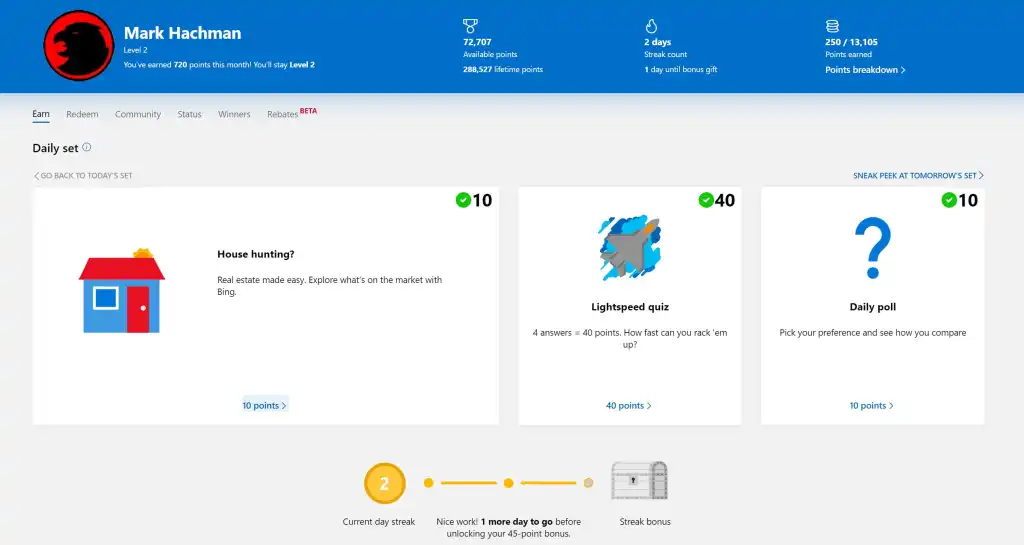 ADVERTISEMENT. CONTINUE READING BELOW.
How to Earn Microsoft Rewards Points
Microsoft Rewards offers various methods to earn points. The program's homepage presents basic Bing search tasks and account adjustments with bonus points. Using the Bing search engine with Microsoft Edge increases the chances of earning rewards.
Furthermore, the loyalty program allows points earned through app purchases and movie rentals made via the Microsoft Store. As users progress through the program, they can unlock discounts and convert the value of store transactions into additional points.
ADVERTISEMENT. CONTINUE READING BELOW.