ADVERTISEMENT. CONTINUE READING BELOW.
While Elon Musk is making waves on Twitter with his endeavors, Mark Zuckerberg is closely observing, and Meta has recently unveiled its brand-new social network. Threads, often referred to as the "Twitter of Instagram," takes inspiration from the familiar structure of the Blue Bird network to create a platform dedicated to fostering meaningful discussions among users.
Though Threads had made a brief appearance in its web version earlier on Wednesday morning (5th), it has officially launched, marking its definitive entrance into the social media landscape.
ADVERTISEMENT. CONTINUE READING BELOW.
Threads are now available.
Threads introduce several features that enhance user experience, including creating text posts of up to 500 characters and sharing up to 10 photos and videos with a maximum duration of five minutes each. One of its notable advantages is the seamless login process using Instagram credentials, allowing users to access the platform effortlessly.
At its initial stage, the social network provides a straightforward approach without additional features like a news panel, Stories, or direct messages (DMs). However, it's reasonable to expect that new and exciting functionalities will be introduced as Threads progresses and evolves. Perhaps in the future, it may even integrate more closely with Instagram, offering users a more seamless and integrated experience.
ADVERTISEMENT. CONTINUE READING BELOW.
How to use Threads on your computer
To access Threads from the PC, do the following:
Go to threads.net
Login with your Instagram credentials
How to use Threads on mobile
The Threads app is now available for Android and iOS. To use on mobile, do the following:
ADVERTISEMENT. CONTINUE READING BELOW.
Log in with your Instagram credentials.
Getting Started on Threads
When you log in to Threads for the first time, you'll be prompted to import your Instagram information, including your photo, bio, and profile link. Since Threads is directly linked to Instagram, you cannot change your username within the Threads app itself; you'll need to make any username changes on Instagram.
You can set your profile as public or private on Threads independently of your Instagram settings. This means you can open one network while keeping the other closed, allowing greater control over your privacy. It's worth noting that you can immediately start following all the profiles you already follow on Instagram, which expands the potential for connection and engagement within the Threads network.
Furthermore, you can start following profiles that haven't yet activated Threads. It's highly likely that most of the people you know from the photo-sharing social network will already be visible within the Threads app, without permission or invitations being sent. This seamless transition allows for a smooth and immediate integration of your existing Instagram connections into the new app.
ADVERTISEMENT. CONTINUE READING BELOW.
What does "Instagram Twitter" look like?
The Threads application features five primary tabs: feed, search, new thread, notifications, and profile. The search tab allows you to find specific individuals and presents profiles recommended by the network, offering a convenient shortcut for exploration.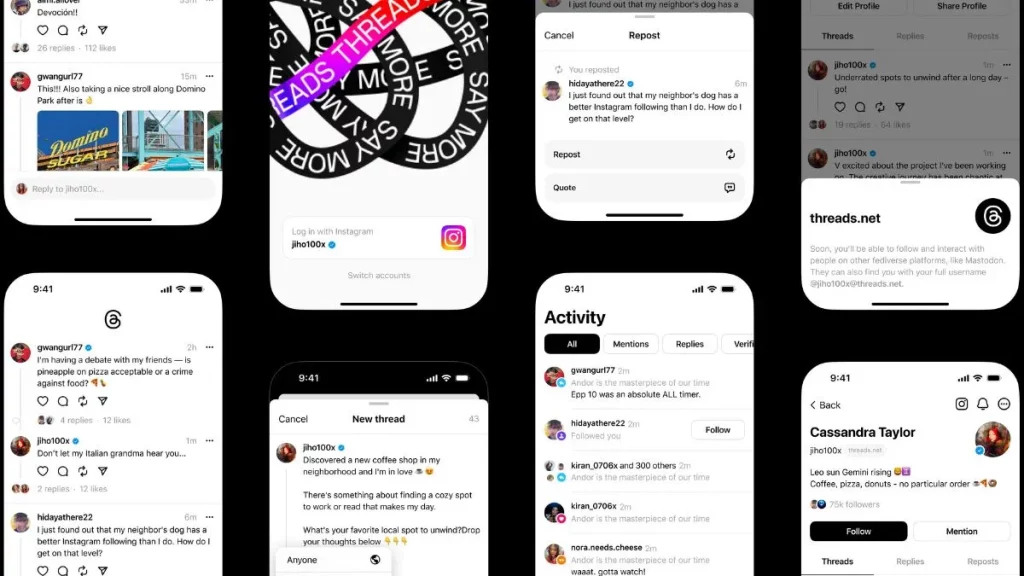 When composing posts, the screen itself serves as an enticing invitation to create threads, essentially a series of connected posts. Threads offer the flexibility to combine an unlimited number of posts, seamlessly integrating photos, videos, and text in any desired arrangement.
Not surprisingly, the initial hours following the network's launch have been eventful. The question remains: can Threads live up to its potential? In anticipation, Canaltech has outlined three critical aspects that Meta's new network should prioritize to establish itself as a formidable rival to Twitter.