ADVERTISEMENT. CONTINUE READING BELOW.
Difficulty restricting follower information can be seen on Instagram because they have no standalone feature that allows it.
This is the case with Instagram when third-time apps cannot use any social media platform's functions. It may be due to the way that it is constructed.
ADVERTISEMENT. CONTINUE READING BELOW.
But, If you want to hide followers on Instagram, there is not much you can do. However, you can enable an Instagram Private account that will not allow non-followers to see your Instagram images or followers.
On Android and iPhone:
ADVERTISEMENT. CONTINUE READING BELOW.
The process is straightforward:
Tap or your profile picture in the bottom right to go to your profile.


Tap in the top right, then tap Settings.

Tap Privacy.
Tap next to Private Account to make your account private.
On Computer
ADVERTISEMENT. CONTINUE READING BELOW.
Click your profile picture in the top right-hand corner, then click Settings.

Click Privacy and Security.
Below Account Privacy, click to check the box next to Private Account.
Those who prefer to keep their profile public can restrict the profile, such as hiding stories and posting updates. This is undoubtedly a more labor-intensive way out than just depriving Instagram, but it's worth your attention.
There is no method to hide followers on Instagram entirely, but there are a few workarounds that you may try.
1. Restrict followers on Instagram
The function of restricting accounts on Instagram exists to help protect those accounts from unwanted interactions. You can decide with the less extreme proposition of limiting followers by changing the follower activities. That does not affect your account that much, but it is a helpful action for those looking for this type of protection.
ADVERTISEMENT. CONTINUE READING BELOW.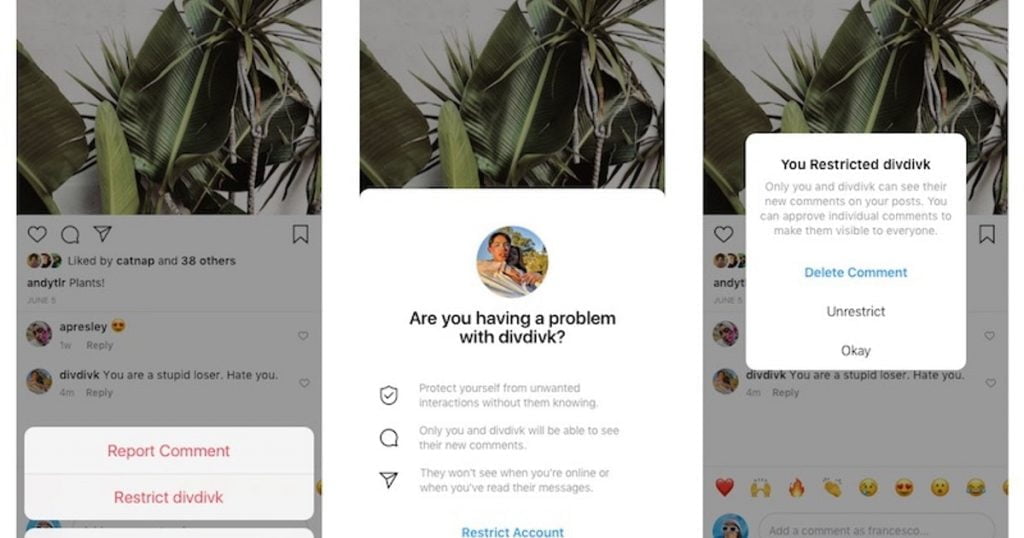 Restricted account comments will be hidden unless the user allows their public viewing. Otherwise, only you and the follower will have access to the content;
The person's responses to stickers posted in their Stories will also be hidden;
Messages will go to the request box and will not be notified by Instagram;
The follower will still be able to view your Stories, but you can manually hide them if you wish;
If you follow the account, you will still see your posts and can interact normally;
The profile will not be warned if it is restricted.
To restrict a follower on Instagram.
Go to that person's profile page and tap the three-dot button in the top right corner.
Then select the "Restrict" button. Be aware that this will not hide the account from your follower's list.
2. Remove followers
If you want to unfollow a user, the best thing to do is remove the follower and then hide from them. However, it may be clear that you have unfollowed them in doing this. When finished, you can go back and follow again if your account is public to make it seem like nothing happened.
To remove an Instagram follower:
Go to their profile and tap the three dots button in the upper right corner.
In the window that will appear next, choose the corresponding command and then confirm the action.
If that's not enough, consider blocking it.
3. Hide follower actions manually
Well, if you don't want to take any of the above measures, how about hiding follower actions manually?
You might want to take measures to avoid interaction and keep your account private, such as deleting comments and hiding Feed likes.
4. Use Vanish mode with Instagram Follower
Vanish Mode is a helpful tool on Instagram due to its simplicity. Although it doesn't allow you to hide followers, Vanish mode lets you delete any records of chats with the profile. The operation is simple- any records will be deleted once you chat with someone who follows you and leaves the conversation.
To enable the Vanish Mode feature, go into a chat with the contact and swipe up on their profile. You can keep it activated for as long as you want. If you want to go back to normal mode, repeat the process. Some actions are silent while all participants are informed when the Vanish Mode is activated or deactivated.