ADVERTISEMENT. CONTINUE READING BELOW.
A new feature called Channels has been introduced on Instagram. It allows users to send public messages to their followers with text, images, reactions, or polls, similar to Telegram's channels feature.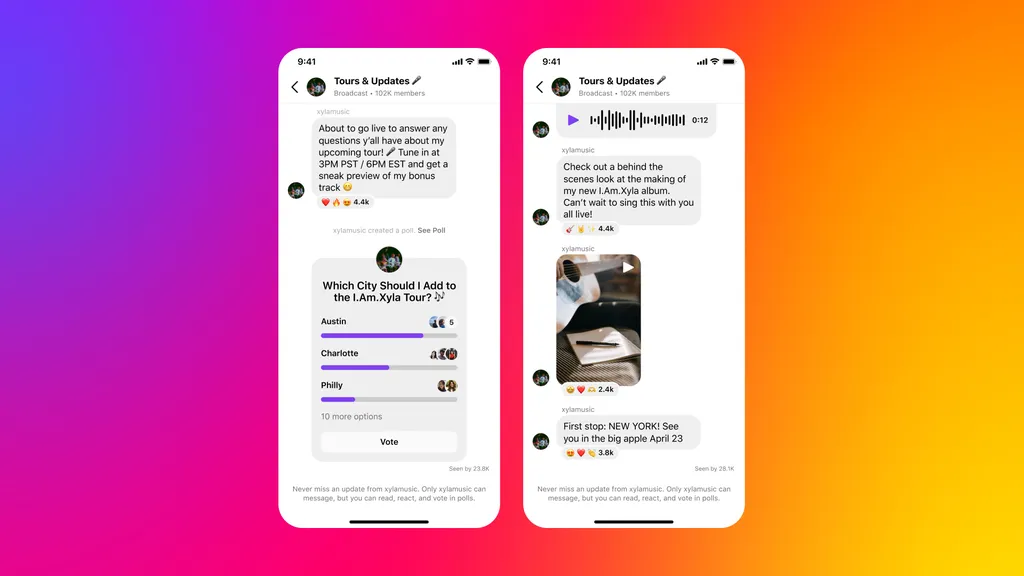 ADVERTISEMENT. CONTINUE READING BELOW.
For content creators and public figures, Instagram Channels are another way to connect with their audiences and to announce important news to all their followers quickly, using a tool beyond posts in feeds or stories.
The presentation of the feature was made by CEO Mark Zuckerberg, who also debuted his channel today, the "Meta Channel." There, important news about the social network and the company will be posted.
ADVERTISEMENT. CONTINUE READING BELOW.
"Creators can use broadcast channels as a casual and quick way to keep followers up to date. They can use text, photo, video, and voice notes to share their latest updates and behind-the-scenes moments, and even create polls to gather feedback from fans," Zuckerberg explained.
Only the author can send messages in a channel, but all involved followers can interact using reactions with emojis or by voting in polls. The function will be enriched with more features, such as inviting another creator to join the channel and announcing partnerships and spaces to receive questions for "Q&A" sections.
How do Instagram Channels work?
Once a content creator is authorized to create a channel on Instagram, he can do so via DMs (Direct Messages). He should invite his followers to join the public chat there, and only those who agree to participate will be notified of new posts.
Later, the link to the channel can be published in a story or fixed in the profile's bio. Participants can also share a link to the chat to invite more people.
Insta users can create public channels open to all interested followers or restrict entry to paying followers only. This creates yet another way to monetize content on the platform. Even if participation is voluntary, members of a channel can mute the broadcast and prevent notifications from being sent to their cell phones. In addition, it is also possible to leave the conversation at any time.
Limited Availability
Instagram Channels will be made available on a very limited basis at this first moment: only a few content creators in the United States will have access to the feature for now. It is worth mentioning that the novelty only works on mobile. The feature debuts on Instagram but will be extended to Facebook Messenger in the coming months. You can also check our guide on how to send an Anonymous Message Instagram.