ADVERTISEMENT. CONTINUE READING BELOW.
Threads is the "Twitter of Instagram" and has been making some noise since before its debut on July 6, 2023. The latest news is an "invitation" to the social network hidden within Instagram itself — now know how to get it.
How to get an invite to Threads
The feature serves as a handy reminder and playful element, resembling an enjoyable surprise rather than a direct invitation to try out the Bluesky mold.
ADVERTISEMENT. CONTINUE READING BELOW.
All signs point to Threads being made available to iOS users right from the start, allowing them to preload the app in advance. On the other hand, Android users may have to exercise more patience as they must wait a little longer to access the app.
Anyway, to get a special invite to the Threads launch, do the following:
ADVERTISEMENT. CONTINUE READING BELOW.
Open the Instagram app on your cell phone;
Click on the magnifying glass button at the bottom of the screen;
Type "Threads" into the search bar to see a red ticket;
Tap on the red ticket to view your invitation.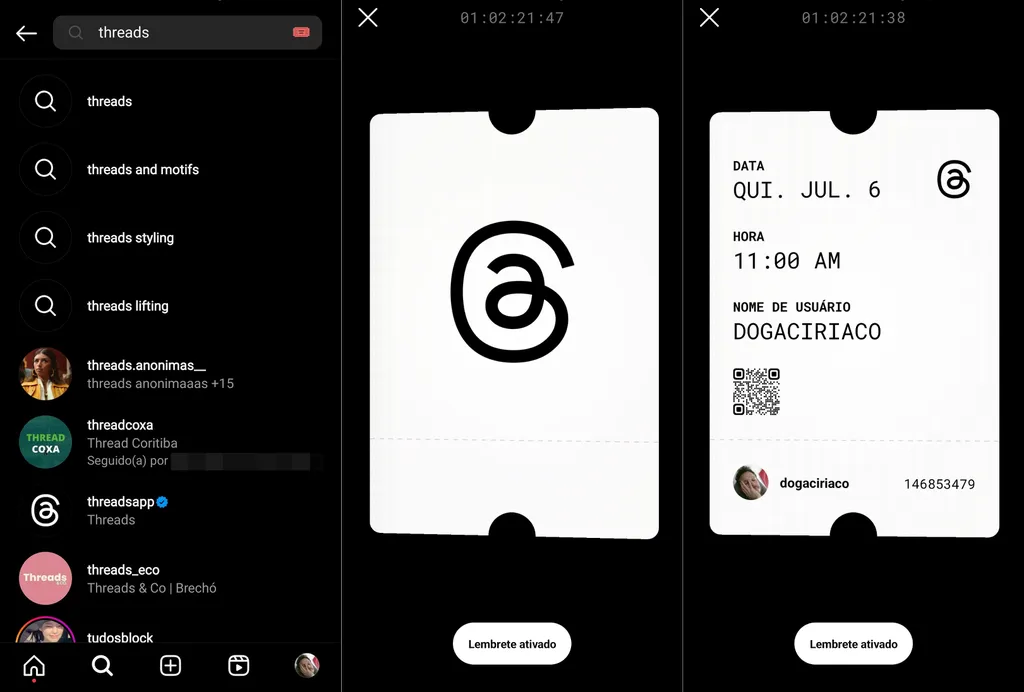 When you're on this particular screen, you'll come across a countdown that shows you the remaining time until the launch of Threads. Additionally, you have the option to set a reminder for yourself. This feature prompts the Instagram app to notify you when the new social network becomes available.
ADVERTISEMENT. CONTINUE READING BELOW.
What is Threads?
Threads is often referred to as the "Twitter of Instagram," and it's a fresh social network created by Meta. Unlike Instagram, Threads focuses more on text-based content rather than images. The development of this platform has been ongoing for a while, and it is currently accessible on the web. Soon, it will be launched for both Android and iOS devices.
With Threads, users can share short texts, post photos, engage in discussions by commenting on their friend's posts, and share exciting publications. This initiative joins the ranks of other alternatives to mainstream social media platforms, such as Bluesky, Koo, and Mastodon. These alternatives aim to provide users with different options, stepping away from the dominance of platforms led by figures like Elon Musk.