ADVERTISEMENT. CONTINUE READING BELOW.
Ko-fi is a social platform designed to facilitate connections between content creators and their fans, providing a means to generate income by showcasing and promoting creative works online.
The platform enables direct donations to creators through their profile pages, with the funds conveniently transferred via PayPal or Stripe accounts.
ADVERTISEMENT. CONTINUE READING BELOW.
By offering this seamless payment process, Ko-fi empowers creators to monetize their work and engage with their audience, fostering a supportive community that values and supports artistic endeavors.
Who is Ko-fi for?
Ko-fi is a platform for many creators, including streamers, podcasters, artists, writers, photographers, filmmakers, cosplayers, artisans, and more. It serves as a platform for these creators to produce and share their content while receiving financial support from their audience.
ADVERTISEMENT. CONTINUE READING BELOW.
While Ko-fi shares similarities with other platforms like Privacy and OnlyFans, it differentiates itself by implementing certain content restrictions. Unlike those platforms, Ko-fi does not permit content that includes nudity, violence, or hate speech.
This approach ensures the platform maintains a safe and inclusive environment, fostering creativity and positive engagement among creators and their supporters.
ADVERTISEMENT. CONTINUE READING BELOW.
How to configure Kofi
To create a Ko-fi account, visit the official website at ko-fi.com and go through the setup process. This involves personalizing your account by choosing a username, uploading a profile picture, and selecting topics of interest that align with your content or preferences.
During the setup, you will also choose between two objectives: becoming a content creator or supporting others on the platform. You can switch between these options whenever you want, allowing you to adapt your account based on your evolving interests and goals.
When choosing to use Ko-fi to make money, you can inform how you plan to raise funds on the platform:
ADVERTISEMENT. CONTINUE READING BELOW.
Donations or tips;

Monthly signature;

Sale of products (physical or digital);

Commissions or services.
On Ko-fi, you can choose from various monetization options based on your preferences and goals. Whether you prefer to utilize one or multiple alternatives, the platform supports different currency systems.
Connect your profile with a PayPal or Stripe account to transfer the funds you receive on Ko-fi. This seamless integration allows for secure and convenient transactions, ensuring you can easily access and manage the financial support you receive through the platform.
Once you have configured these settings, you can begin publishing your content, promoting products, and sharing your profile page with other users across various social networks. This proactive approach will help you attract followers and expand your audience on Ko-fi.
By consistently engaging with your supporters and leveraging the platform's features, you can effectively showcase your work, foster meaningful connections, and ultimately increase your visibility and potential for generating income.
How does KoFi work?
Ko-fi allows you to share content in the following formats:
Text/Blog;

Image;

Video;

Audio.
Besides promoting your creative content, Ko-fi offers additional features to enhance your monetization options. You can create fundraising campaigns to support specific projects or initiatives, allowing your audience to contribute towards their development.
Furthermore, you can provide a recurring subscription option, enabling your followers to support you continuously. Additionally, you can list and offer services, as well as advertise and sell products directly through the platform.
These diverse monetization avenues provide you with flexibility and the opportunity to explore various revenue streams while engaging with your audience on Ko-fi.
To configure your monetization options on Ko-fi, you can easily access the main menu by clicking on the cup icon in the platform's upper left corner. From there, you can explore and customize the various ways to monetize your content.
Whether it's fundraising campaigns, recurring subscriptions, or listing products and services, you can choose the options that best suit your goals. Once configured, all your offerings will be prominently displayed on your profile page, allowing your followers and supporters to browse and engage with them easily.
Buy a coffee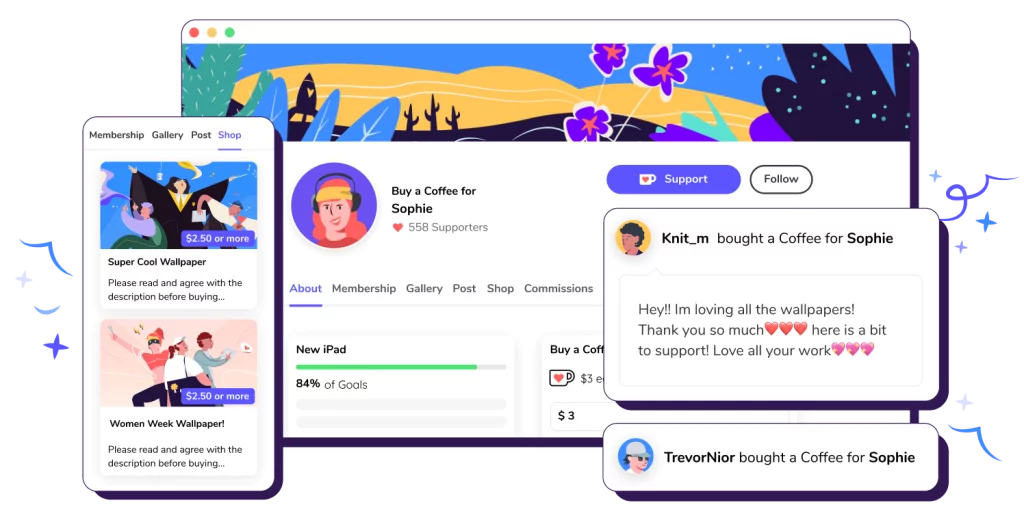 When visiting a user's profile on Ko-fi, you will come across a dedicated donation section where you can choose to "buy a coffee" for the creator. This phrase symbolizes the minimum tip amount in the currency of your choice. Not only can you make a single donation, but you also have the option to contribute multiple "coffees" at once.
This feature provides a simple and convenient way for supporters and fans to show their appreciation and support for the creator's work by contributing to their ongoing projects or creative endeavors.
The free version of Ko-fi does not impose any fees on the amounts received as "coffee" or donations. However, for commissions, subscriptions, and sales made through the platform, a 5% fee is applied as a commission.
This fee ensures that Ko-fi can continue providing its services and support to content creators, enabling them to monetize their work effectively. Considering this fee when setting pricing or determining the financial aspects of your offerings on Ko-fi is important.
Ko-fi Gold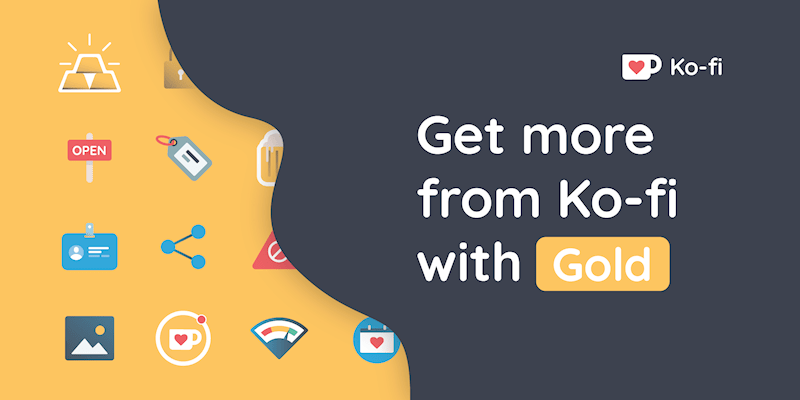 The platform offers a premium version called Ko-fi Gold, which provides several advantages for users. With Ko-fi Gold, no fees are charged on commissions, sales, or recurring subscriptions, allowing creators to maximize their earnings. In addition to fee exemptions, Ko-fi Gold offers other exclusive benefits, including:
Higher quality of images in the gallery;

Extra colors to use on the profile page;

Ad deletion.
Subscribers of Ko-fi Gold have the added flexibility of customizing the name of their donations, allowing them to personalize their contribution expressions according to their preferences.
Regarding pricing, the Ko-fi Gold subscription is available at $8 per month or $6 per month for the annual plan, providing creators with enhanced features and benefits.