ADVERTISEMENT. CONTINUE READING BELOW.
TeamViewer is an application that allows remote access between two devices. Available for Windows, MacOS, Linux, Android, and iOS, a user can access and control another computer remotely through an identification code and password.
Having remote access from another machine has several uses, such as retrieving documents, solving problems externally, and working from Home Office. The software still has other features, such as the possibility of video and audio calling between the two devices and file sharing. See how to use it!
ADVERTISEMENT. CONTINUE READING BELOW.
How to Remotely Access a Computer with TeamViewer
1. Download TeamViewer and follow the installation instructions on the devices you want to use. For remote access, the program must be installed and open on both machines;
2. The ID and password referring to the computer used are shown on the software's initial screen. You need to have these two pieces of information to access it from elsewhere. Enter the ID in the "Partner ID" field in the right corner and click on "Connect";
ADVERTISEMENT. CONTINUE READING BELOW.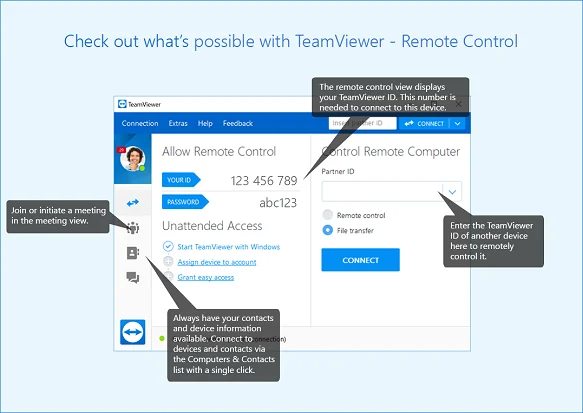 3. Then enter the password;
ADVERTISEMENT. CONTINUE READING BELOW.
4. TeamViewer will now broadcast the screen of the connected device. It is possible to manage all the functions of the other computer, in addition to accessing a help menu of the software itself;
5.  The "View" option allows you to configure the resolution and quality of the transmission. Better video quality can affect overall performance;
6. On the "Communicate" tab, it is possible to switch machines with the partner, in addition to starting a chat or audio and video call;
ADVERTISEMENT. CONTINUE READING BELOW.
7.  Under "Files & Extras", the user can quickly share files between the two devices, take screenshots and even record the session;
8: to end the session, click on the "X" in the menu in the upper right corner. The program will even offer the possibility to save the progress on the computer.