ADVERTISEMENT. CONTINUE READING BELOW.
WhatsApp is currently testing a new feature that allows users to edit messages even after they have been sent. This feature was first discovered in build 2.2319.9 of the web version and reportedly works well.
Recent reports suggest that the feature has also been found in the Android version of the app, but it has not yet been released to testers.
ADVERTISEMENT. CONTINUE READING BELOW.
According to WABetaInfo, a website that tracks WhatsApp updates, the "Edit message" option can be accessed by right-clicking a message in direct conversations or groups. Once clicked, a new window will appear, allowing users to edit the content of the message.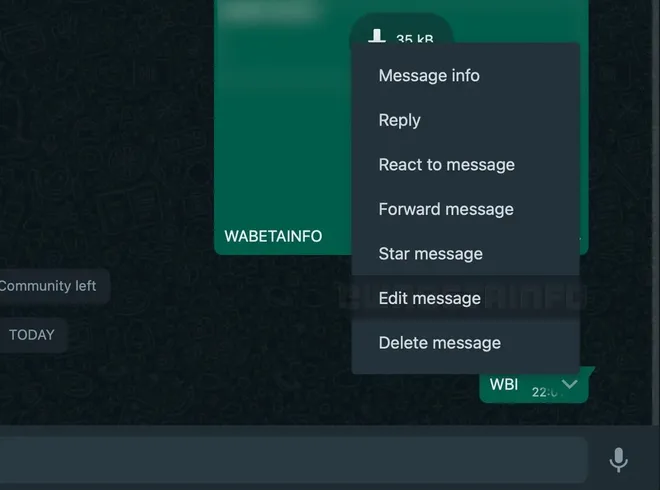 ADVERTISEMENT. CONTINUE READING BELOW.
However, the feature has some limitations – the same message can only be edited within 15 minutes of being sent. This limitation is to maintain the authenticity of conversations and prevent changes to the context of the conversation.
WhatsApp aims to allow users to correct minor mistakes rather than change the entire content of the chat.
In development on Android
The message editing feature on WhatsApp is becoming increasingly likely for Android users, as the latest beta version of the app now includes a description message to indicate modified submissions.
The message reads, "This message has been edited for everyone in this chat on the latest version of WhatsApp." Although the feature is not yet available to testers, this development suggests that WhatsApp is actively working on improving the messaging experience for its users.
Edit Messages in WhatsApp Web Beta
WhatsApp has started testing the message editing feature on its web version with a limited group of users. The testing will gradually expand to more users in the coming days. While there is no official launch date for the feature yet, it may also be included in the iOS test version before it is fully released.